Congratulations Class of 2020!
We are so proud of what our graduating students have accomplished during their time in the English MA program. Although we cannot celebrate in person now, we want to publicly recognize these outstanding writers, teachers, and thinkers by highlighting some of their achievements. 
Please join us in extending huge congratulations to the following individuals for completing their MA in English at UMaine! Graduates—we wish you the very best in your future endeavors and we look forward to continuing our conversations with you. 
Congratulations, colleagues.
---
Abigail Adent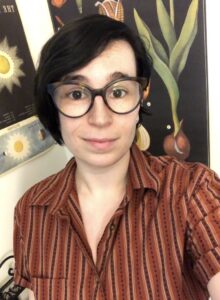 I think what I'm the most excited about doing at UMaine is proving to myself that I can be successful at both research and creative writing, without needing to pick one. I'm tremendously proud of my work as a Wicks Fellow and Grady Award winner, and I'm very grateful for the help and support of UMaine's faculty throughout my time here. While leaving UMaine is bittersweet, especially after this semester, I'm excited to take what I've learned here into the PhD program at the University of Washington this fall.
---
Martin Conte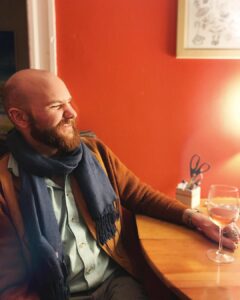 I am most excited about the extracurricular accomplishments that have been afforded me by this program: publishing Thieves & Liars with Tori Hood and developing a new course proposal with Kristina King have been highlights of my experience here.  These accomplishments reflect how the program has allowed not just for our success as students, but as contributing members and professionals in this Department, and I'm so grateful to the faculty for their encouragement in these projects.
---
Kaitlyn Hanson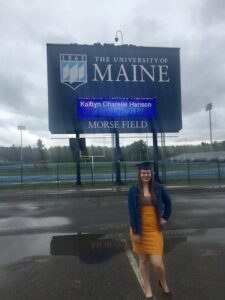 One of my greatest accomplishments through my time in the program was watching my students in ENG 101 grow and learn. The best feeling is the sense of pride and success after listening to students engage in thoughtful class discussion. The courses I took in this program were always so engaging, and I'm proud of the work I completed, especially whenever I was able to cross-pollinate ideas from one seminar to another. I am excited to be able to bring all of the rigorous and engaging work I've done in this program into my future teaching career. 
---
Victoria Hood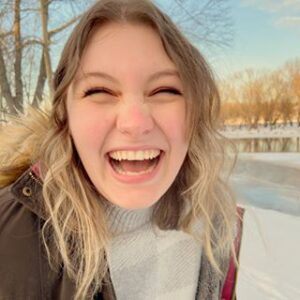 I am very proud of the growth of my writing throughout my time at UMaine. I've gotten the opportunity to work closely with faculty to create a thesis that I'm really proud of and feel represents what I want my writing to look like and feel like and I'm so excited to have accomplished this throughout a year of thesis credits. I'm so delighted to have been a part of readings on campus and proud of the talent Writer's Night at Bangor Beer Co was able to display (still open for take out and delivery). Lastly, I am so proud of Thieves and Liars, co-edited by myself and Martin Conte, for creating a place for our cohort to exist in eternity – never to leave UMaine campus and also to travel wherever we bring it. Thanks UMaine!
---
Kristina King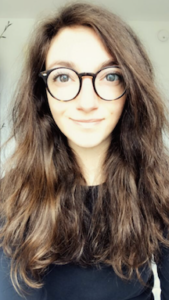 My time as a grad student has been very rewarding, and I'm grateful for the relationships that have shaped my time in the MA program. Of course the most satisfying aspect has been working with and alongside my fellow MA students, who have been excellent colleagues and become close friends. I feel proud of what we've accomplished in our EGSA work, and it's been a privilege to represent the cohort in GSC for AY19-20. The seminars I've been a part of in the last two years have been challenging and fun — I'm especially thankful for the mentorship of Professors Carla Billitteri, Ryan Dippre, and Dylan Dryer, and for their encouraging me to push some of that seminar work toward conference presentations.
---
Stephen Thomas Krichels
I'm proud of finding my way through a program of which I knew so little about when I applied, and also of making the time I spent in it meaningful to my personal development. Furthermore, I'm proud of both the students I taught and the cohort I learned with. Every member of both these groups showed me how much there is to be excited about in the future through their demonstration of personal advancement and their capacity for creativity.
---
---
Cassidy Marsh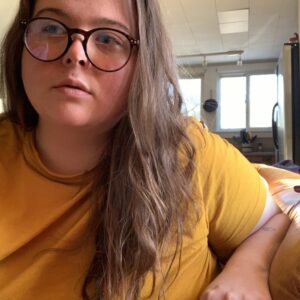 I am quite proud of my time here at the English department; the cohorts are like a second family and provided a sense of support and security unlike what I've ever had before. I will miss working with the faculty members whom I learned so much from pedagogically and professionally. I'm happy to have been a part of a department that made any stressful times more manageable because they emphasized the importance of connection.
---
Tyler Tallmadge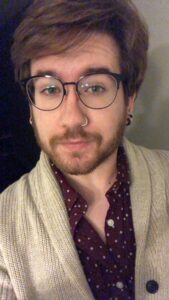 My time here at UMaine has been full of great experiences, strong friendships, and a lot of coffee. Overall, some of the things that I'm proudest of are the relationships that I was able to foster with students. I never knew quite how fulfilling it would be to watch someone that I've taught grow and succeed, but now I do. The work that I've done in my classes, obviously, is something that I'm extremely proud of. Not only have I done scholarly work, but I've also had the opportunity to create some hybrid projects that were really engaging to me (and I can only hope they were engaging to my professors!). I'll always look back on my time here with fondness, and I want to thank everyone, peer and faculty, for making UMaine my home away from home!
---
Morghen Tidd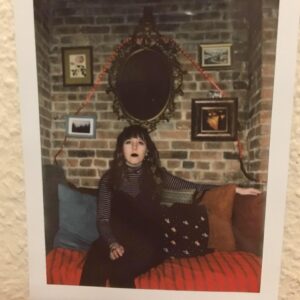 While it is difficult for me to choose, I think that I am most proud of is how I have preserved the role of "play" in my graduate studies. When I entered the program, I was concerned that the work would not have room for playfulness and experiment, but I was luckily wrong. I was able to productively make room for playfulness and experiments in all of the work I did while growing as a student and instructor.
---
---