This Week in English | May 7 – May 13, 2018
Wicks Fellows Reading Tonight
The two outgoing Wicks Fellows of the UMaine English Department will offer a public reading of their work tonight at 6pm in the Black Bear Taproom at 19 Mill Street in downtown Orono. There will be a table-reading of the opening scenes from Peter Lowe's Labor Day, a film adaptation of The Shoemaker's Holiday, by Thomas Dekker. And in Discourses on Fantasy, Reuben Dendinger draws on Medieval allegory, modern fantasy, surrealism, and Marxist philosophy in an experimental narrative that seeks to challenge longstanding orthodoxies in fantasy criticism and open up new directions for fantastic literature. The event is supported by the McGuillicuddy Humanities Center.
Recognition Ceremony and Commencement Events
The Departmental Recognition Ceremony unfolded before a capacity audience of students, family members, and friends in the Hill Auditorium last Wednesday. The program is attached below in pdf format. Thanks to everyone who participated, and especially to Ellen Manzo and Celeste Cota for their indispensable roles in making it happen!
The Graduate Commencement ceremony takes place in the Alfond Arena starting at 3pm on Friday, May 11.
English undergraduates will be among those recognized in the 9:30am ceremony on Saturday, May 12, also at the Alfond Arena.
Congratulations to all the students earning their degrees at week's end!
Learn about the Wabanaki People in Maine
Margo Lukens asks interested department members to save the morning of Wednesday, May 16, for an opportunity for experiential learning about our shared history with Wabanaki people in Maine. The event is scheduled for ten to noon in the Woolley Room in DTAV and will be followed by lunch. It will be facilitated by Barbara Kates of Maine-Wabanaki REACH and is part of the UMaine Diversity Leadership Institute. If you are interested, please RSVP by May 9.
Quick Takes
An album of photographsfrom the Grady Awards on April 19
An album of photographsfrom the MA Thesis reading on April 26
Hardcopies of The Open Field (cover image attached as jpg) are available in the English Department. Thanks to editors Eric Arnold and Tyler O'Keefe for their great work on the issue.
Wishing everyone a smooth path to the finish line. Let us hear from you in the office if we can be of any help!
Steve Evans
English Department Chair
This Week in English 29 was circulated to faculty, students, and friends of the department on Monday, May 7, 2018. If you would rather not receive these weekly bulletins, please reply with <unsubscribe> in your subject line. Earlier installments are archived on our website.
If you'd like to support the mission of the English Department, please consider a donation to the Annual Fund through this secure on-line portal.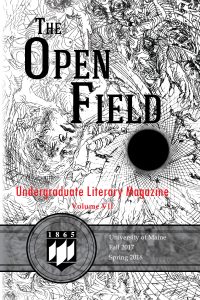 07_TWIE_29_Recognition-Ceremony-Program