This Week in English | April 5 – 14
April moves quickly! Much to report below: 
---
Please mark your calendars for the UPDATED time and place of the English Awards Ceremony:
Tuesday, April 25⋅
4:30 – 5:30pm
at UMaine's Foster Center for Student Innovation, 123 Long Rd
We will celebrate our students' achievements AND thank our retiring faculty members.
---
We have good news from Nataliya Shpylova-Saeed, who received her MA here in 2016. She's been on the move!
After receiving her Ph.D. at Indiana University (where she also taught), Nataliya has been an Assistant Visiting Professor at Colgate. Next year she'll join the Slavic Department at Harvard, where she will be a Preceptor for their Ukrainian language program!
---
Eddie Seeley is working in conjunction with the UMaine English and WGS departments to create a queer and trans zine with work from students, staff, and faculty. Here's what he had to say about the project:
"The purpose of this zine is to collect the work of queer and trans students, staff, and faculty here at the university and give us the opportunity to have our voices heard. With everything going on in the world regarding our existences, it is important—now, more so than ever—to express our feelings and build community."
If you would like to submit poetry, fiction, nonfiction, art, or essays, check out the submission form here or the flyer attached below.
---
WGS has an upcoming roundtable discussion in which students from a wide variety of programs are contributing. The discussion is on Friday April 14th from 2 to 3pm and is titled: Why a WGS minor or double-major?: students from CLAS and NSFA share their experiences,
Student participants include:
Lydia Townsend: Zoology
Noah Burby: Microbiology
Miranda Lambert: Nursing
Julian Ober: Political Science
Drew Parent: Social Work
Kalina Chazen-Knox: Psychology
Eddie Seeley: English
Alexa Baptisa: Sociology
---
Logan Swift, the Marketing Manager of Maine Campus Media—the University of Maine's student run news outlet—is reaching out to let students know that their team is hiring students for the fall of 2023. Below are some positions that we feel could be of interest for students within the English program.
Editor-in-Chief (full description linked HERE): The Editor-in-Chief is responsible for all executive decisions made on the content for Maine Campus. The EIC oversees all weekly operations and leads the section editors (News, Sports, Culture, Opinion, Photo, Podcast). The Editor is ultimately responsible for the production of the publication, the content, staff, and collaborates with the Business Manager to ensure the publication's success.
Sports Editor (full description linked HERE): The Sports Editor is responsible for overseeing the Sports section of the publication, including but not limited to, story assignments and online production. The sports section primarily focuses on the university's sporting teams in addition to giving perspectives and takes on sports at the national level.
Comic Contributor (full description linked HERE): The Comic Contributor is in charge of making a one-panel comic for our weekly online publications. This comic will then be posted on Sunday to our various social media platforms as well as on our website. This comic can be random jokes, political commentary, or even about the university itself, and the new name of the comic is created by the new contributor.
---
Donald Patten's art project, "Past Trauma in Modernity: Impressions of COVID-19" will be exhibited at the Minor Gallery in Old Town Maine from June 2nd to 30th! He cordially invites you to attend the opening reception on June 2nd from 4pm to 6pm. If you are interested in going to it, feel free to invite anyone you know. The more people that can enjoy the show, the better!
If you are interested in attending, you can find more information on the flyer below.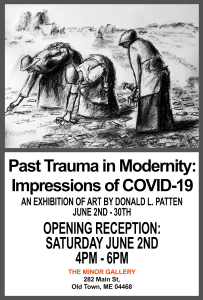 ---
Elizabeth Neiman has recently had the pleasure of digging into the work and critical reception of early 20th century Maine novelist, Emilie Loring, for an interview with Jennifer Osborn (News Reporter for The Ellsworth American) on Loring's work. See here for the article!
---
Join friends and students of Orono poet Kathleen Ellis at 2 p.m Saturday, March 25 at BookSpace, 48 Columbia Street, Bangor for a book launch and reading from Ellis' latest collection of poems, Body of Evidence, winner of the 2022 Grayson Books poetry competition.
The event is free, and light refreshments will be available. Books will be for sale at the launch party by Briar Patch Books. For further information call (207) 941-0255 or see the attached flyer below.
---
MJ Gautrau—a communications specialist at the Advanced Structures and Composites Center at the University of Maine—is writing to let you know about a few positions they have open in the communications department that English department students might find interesting. They are offering 30 hours / a week to assist in their editorial program. This position is an amazing opportunity to get real-world communications experience as well as training to interpret highly technical writing into something more generally understandable. They also have a ton of fun!
Attached below are two job descriptions: one for an editorial-focused position and the other for a graphics-focused position.
---
The English Department has compiled a list of course descriptions for courses being offered this fall. You can find the full list here, but down below are some unique courses that might be of particular interest to undergraduate students:
ENG 371:0001 (26650) Topics in Literary Theory & Criticism: Borders, Displacement, and Diaspora  (Rosalie Purvis)
WH220 – 03:30 PM – 4:45 PM – TTH 
Prerequisites: 6 credits beyond ENG 101 (ENG 101 and ENG 222 recommended) or instructor permission
In response to ongoing global crises of displacement and migration, writers and artists are constantly inventing ways to circumvent, challenge and soften contested borders of nation, culture, and language. Through the lens of border studies theory, and by examining diverse writing on and about borders, displacement and diaspora, this course investigates literary modes of international and intercultural border crossing and facilitates a range of multi-genre written explorations of different intercultural crossings.
ENG 381:0001 Themes in Literature: Orpheus, the Myth of the Poet (Jennifer Moxley)
227 Neville Hall – MWF 11:00-11:50 AM
Prerequisites: 6 credits beyond ENG 101 (ENG 170 and ENG 222 recommended)
 Satisfies the following general education requirement: Western Cultural Tradition.
This course can be taken twice for credit provided that the theme covered is different for a maximum of six credits earned.
When we approach study of literature thematically, surprising connections can emerge.  In this reading-intensive course, we will trace a single, defined theme (Orpheus) through multiple literary works. This journey through a particular theme is a delightful way for you to practice your reading and research skills in preparation for advanced seminars.
Course Description: The myth of Orpheus has captivated writers for centuries. Orpheus—the first poet—is the origin of Sappho's lyric genius. He charms denizens of the underworld, as well as beasts, rocks, and trees; he is the poet as magician and enchanter of nature, a demigod who reconnects language to the material world. The premature and double death of his bride Eurydice binds love, death, lament, and loss to the lyric tradition. Dismemberment, same-sex love, unleashed female rage, prophecy, and mystery are part of his story as well. He's there at the origin of Western opera, and snakes his way through the American Blues. In this course we will read and discuss the myth of Orpheus and trace its influence on and symbolic function for poets and writers of the Western tradition, from antiquity to the present day.
ENG 382:0001 (86501) Major Genres Historical Perspective: American Poetry (Benjamin Friedlander)
S155 – 08:00 – 09:15 AM TTh
Satisfies the following general education requirement(s): Western Cultural Tradition
Prerequisites:  6 credits beyond ENG 101 (ENG 170 and ENG 222 recommended) or instructor permission
Course description: Four centuries of American poetry in twenty episodes encompassing major and minor figures and a wide range of genres, media, topics, audiences, and perspectives. Each episode will function as a micro-narrative within the broader history of American poetry, allowing us to dig deep into specific cases while respecting the disjunctiveness that has long characterized American literature. The episodic structure will also allow us to read past and present work together at every stage instead of moving slowly across time like snails on a stalk. Our poems will include texts both written and oral–original to English and in translation–traditional, avant-garde, and popular. A reading-intensive course with a focus on primary sources: an immersion in poetry.
ENG 429:0001 (23937): Topics in Literature & Language: The Uncanny (Gregory Howard)
Nv406 – 09:00 – 9:50 AM –MWF 
Prerequisites: ENG 271 and 6 hours of 300 level literature courses or permission of instructor.
"The uncanny," as a term for discussion in art, literature, film, psychological investigation, indeed life itself, is notoriously difficult to pin down. It involves the feeling of terror but it is different from "the terrifying." It may be produced by the ghostly or ghastly, but it is not necessarily found in either experiences of the supernatural or the horrific. Significantly, Freud begins his investigation of the uncanny with aesthetics. This will be our starting point and our fulcrum. How do the texts under consideration produce what may be described as an uncanny sensation? Do they at all? What other feelings, sensations do they produce? How do they do this? Furthermore, why is the uncanny something art is interested in at all?
---
Hang in there, everyone! Enjoy the flurry of the end-of-semester, and we can all look forward to MAY!