This Week in English | March 27 – April 4
Snow is melting, spring is coming, and break is over! Please read on for an update on the English Department's doings:
---
Faculty meeting Scheduled for this Wednesday at 2:10 pm in the Writing Center.
---
Morgan Talty published "What makes me happy now: dimples" a work of short creative-nonfiction[1]  in the Guardian to honor the birth of his[2]  and his wife Jorden[3] 's first son, Charlie, on February 28th. Congratulations to you and your growing family, Morgan, and a warm welcome to the world for Charlie!
---
Suzette Mayr New Writing Series event March 30th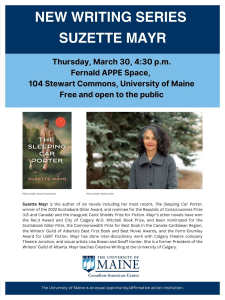 On March 30 at 4:30 PM, the UMaine Department of English New Writing Series and the Canadian-American Center present a reading and Q&A by novelist Suzette Mayr.
Mayr is the author of six novels, including her most recent, The Sleeping Car Porter, winner of the 2022 Scotiabank Giller Prize. Mayr's other novels have won the ReLit Award and W.O. Mitchell Book Prize. Mayr teaches Creative Writing at the University of Calgary. Mayr will be introduced by assistant professor of English Hollie Adams.
The event is free and open to the public.
---
Professor Elizabeth Neiman was cited in an article in The Ellsworth American by Jennifer Osborn on the critical reception of early 20th century Maine novelist Emilie Loring. See here to read more.
---
Maine Campus Media, University of Maine's student run news outlet, is hiring students for the fall of 2023. Below are some positions that we feel could be of interest for students within the english program.
Editor-in-Chief (full description linked HERE): The Editor-in-Chief is responsible for all executive decisions made on the content for Maine Campus. The EIC oversees all weekly operations and leads the section editors (News, Sports, Culture, Opinion, Photo, Podcast). The Editor is ultimately responsible for the production of the publication, the content, staff, and collaborates with the Business Manager to ensure the publication's success.
Sports Editor (full description linked HERE): The Sports Editor is responsible for overseeing the Sports section of the publication, including but not limited to, story assignments and online production. The sports section primarily focuses on the university's sporting teams in addition to giving perspectives and takes on sports at the national level.
Comic Contributor (full description linked HERE): The Comic Contributor is in charge of making a one-panel comic for our weekly online publications. This comic will then be posted on Sunday to our various social media platforms as well as on our website. This comic can be random jokes, political commentary, or even about the university itself, and the new name of the comic is created by the new contributor.
---
Donald L. Patten's "Past Trauma in Modernity: Impressions of COVID-19" art exhibition will be held at the Minor Gallery in Old Town Maine from June 2nd to 30th. His initial art proposal was polished and refined by many members of our Writing Center, for which he shows his gratitude by inviting you and anyone who is interested to the opening reception on June 2nd from 4pm to 6pm. See flyer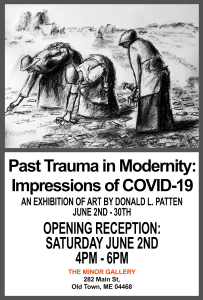 ---
New Internship Database
Looking for a summer or fall internship? Now is the time to get started! On the Internship page of the English Department's website, there is a new Internship Database, where students can find a list of organizations that are currently looking for English interns and/or where past English students have interned before. Check out the database frequently, as new opportunities will continue to be posted.
Students–please reach out to Dr. Swacha (kathryn.swacha@maine.edu) with questions and support for applying to any of these opportunities.
Alums–please contact Dr. Katie Swacha (kathryn.swacha@maine.edu) if you work for an organization that might be interested in bringing on an English intern so that she can add it to the database.
ENG 496, the department's internship course, will run again this fall for students seeking course credit and content associated with their internship. Email Dr. Swacha if you would like to enroll!
---
Internship Position–Repaving MaineStreet
The UMS system is looking to hire 2 English students who can work as paid interns over the summer to  help with the Repaving MaineStreet project. Interns will get the opportunity to assist with user-testing, developing training materials, and project management. To apply, please send a resume and cover letter as PDF documents to Dr. Katie Swacha (kathryn.swacha@maine.edu) by Monday, April 3, 2023.  See the following job ad for more details.
---
The Open Field undergraduate literary magazine's launch party is being held April 13th from 5:30PM to 6:30PM in the IMRC. All are welcome to come celebrate the publication of the spring 2023 edition!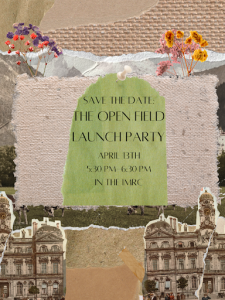 ---
Sound Theatre Company's William S. Yellow-Robe Jr Playwright Residency program will start receiving applications in late spring.
"Our intention is to invite playwrights to create narratives that draw from their own authentic lived experiences, while deepening their understanding of those of others," said Teresa Thuman, Sound Theatre Founding Artistic Director. "We expect this to be unique to each individual; thus we ask you to share your personal understanding of intersectionality and how it informs your work." Based on extensive feedback from over 30 playwrights and theatre artists, Sound Theatre will pilot a hybrid model with digital and in-person collaboration. The selected resident will:
– DEVELOP NEW WORK: Each resident will develop a project, through an independently driven process that may include dramaturgy, table reads, and/or workshops.
– (OPTIONAL) PRESENT A PUBLIC READING OF NEW WORK
– COMPLETE CULTURAL COMPETENCY TRAINING: Each playwright will complete training in an area of interest, to foster new creative possibilities in their work, new experiences for actors and audiences, and mentorship and cultivation of new talent locally.
– LEAD A COMMUNITY PLAY DEVELOPMENT WORKSHOP SERIES: The resident will also lead a workshop for writers in underrepresented communities to practice the craft of playwriting as a form of expression through dialogue and dramatic structure.
– PRODUCE ONE MAKING WAVES 10-MINUTE PLAY FESTIVAL: The above workshop culminates in a publicly presented showcase of student playwrights' ten-minute plays.
Deadline for applications is in July. For more information please visit the Sound Theatre Company website.
---
The Office of Communications at the Advanced Structures and Composites Center is hiring for two positions that might be of interest to our undergraduate English cohort. They are seeking two Student Communications Specialists, one for an editorial-focused position and the other for a graphics-focused position. This 12-month position is an amazing opportunity to get real-world communications experience as well as training to interpret highly technical writing into something more generally understandable. They are offering 30 hours/week during the school semester and 40 hours/week during breaks. Application deadline: Monday, April 3rd.
For questions, please contact their communications specialist, MJ Gautrau, at margaret.gautrau@maine.edu.