Caroline Bicks
Professor
Stephen E. King Chair in Literature
315 Neville Hall
University of Maine
Orono, Maine 04469-5752 U.S.A.
207.581.3819
caroline.bicks@maine.edu
Office Hours – by appointment
Academic Positions
Current
Professor of English and Stephen E. King Chair in Literature
Previous
Assistant to Associate Professor, Boston College, Department of English, 2002-2017

Assistant Professor, The Ohio State University, Department of English, 1998-2002

Post-Doctoral Fellow, Stanford University, Department English, 1997-1998
Research and Teaching Interests
Shakespeare, early modern drama and culture, history of science, women's and gender studies, feminist theory, girlhood studies.
Education
Ph.D. Stanford University, Department of English, June 1997

A.B.,

magna cum laude

, English and American Literature, Harvard University, June 1989
Publications
Books
Midwiving Subjects in Shakespeare's England. Aldershot: Ashgate, 2003.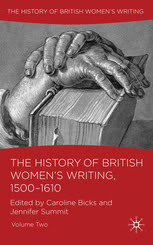 The History of British Women's Writing, 1500-1610. Volume 2 of the History of British Women's Writing. Co-edited, and Introduction co-authored with Jennifer Summit. Hampshire: Palgrave, 2010. (Paperback edition issued September, 2013).
Shakespeare, Not Stirred: Cocktails for Your Everyday Dramas. Co-authored with Michelle Ephraim. New York: Perigee Press, 2015; London: Scribe Press, 2015.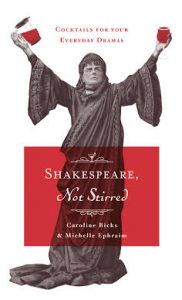 Articles and Essays
"Incited Minds: Rethinking Early Modern Girls," Shakespeare Studies 44 (2016): 180-202.
"Repeat Performances: Mary Ward's Girls on the International Stage," Renaissance Drama: (44.2): 201-215.
" 'Making the Stage my Profession': Girlhood and Performance in Mary "Perdita" Robinson's Memoirs," Borrowers and Lenders: The Journal of Shakespeare and Appropriation 9.1 (2014).
"Producing Girls in Mary Ward's Convent Schools," in Gender and Early Modern Constructions of Childhood, ed. Naomi Miller and Naomi Yavneh. Aldershot: Ashgate, 2012. 139-156.
"Gender and Sexuality in Middleton's Plays," in Thomas Middleton in Context, ed. Suzanne Gossett. Cambridge:     Cambridge Univ. Press, 2011. 263-270.
"Instructional Performances: Ophelia and the Staging of History," in Performance and Pedagogy on the Early Modern Stage, ed. Kathryn McPherson and Katherine Moncrief. Aldershot: Ashgate, 2011. 205-216.
"Staging the Jesuitess in A Game at Chess," Studies in English Literature 49.2 (2009): 463-484.
"Stones Like Women's Paps: Revising Gender in Jane Sharp's Midwives Book," Journal for Early Modern Cultural Studies 7.2 (2007): 1-27.
"Planned Parenthood: Minding the Quick Woman in All's Well," Modern Philology 103.3 (2006): 299-331.           
"Midwiving Virility in Early Modern England."  Maternal Measures: Figuring Caregivers in the Early Modern Period.  Ed. Naomi Miller and Naomi Yavneh. Women and Gender in the Early Modern World. Aldershot: Ashgate, 2000. 49-64.
"Backsliding at Ephesus: Shakespeare's Diana and the Churching of Women." Pericles: Critical Essays. Ed. David Skeele. New York: Garland, 2000. 205-227.
Creative Non-Fiction
"Is the Husband Going to Be a Problem?" Modern Love column for the New York Times, Sunday Styles section.  August 15, 2010.
Link: http://www.nytimes.com/2010/08/15/fashion/15love.html
"Sweet Dreams." Afterbirth: Stories You Won't Read in a Parenting Magazine. Ed. Dani Klein. New York: St. Martins Press, 2009.
Link: https://www.babble.com/baby/my-date-with-dr-ferber-baby-sleep-ferberizing/
"Deciding to Walk the Aisle Without Dad," commentary for "All Things Considered," National Public Radio, February 10, 2005.
"Letters to Santa Written by Shakespeare's Characters." McSweeney's Internet Tendency.
Link: https://www.mcsweeneys.net/articles/letters-to-santa-written-by-shakespeare-characters
"willslist." McSweeney's Internet Tendency.
Link: https://www.mcsweeneys.net/articles/willslist
"Means of Support." Performed at the Triad Theater in New York City (August 25, 2011).
"Sweet Dreams." Performed at the New York City Comedy Festival at Caroline's Comedy Club (November 7, 2009); and at the American Repertory Theater's Zero Arrow Theater (May 2, 2010 and June 14, 2009).
Blog and web site, everydayshakespeare.com, with Michelle Ephraim (Worcester Polytechnic Institute), 2009—
Work in Progress
Book
"Incited Minds: Brainwork and the Adolescent Girl in Early Modern England": a study of the adolescent girl in early modern England that challenges conventional views of how females developed in the period— in particular, how their minds allegedly worked. The study explores medical, literary, and popular texts to argue that the stage of early modern girlhood that extended from age 14 to marriage was seen as a uniquely inventive and culturally influential time; girls' minds, incited by the heat of puberty, could produce and negotiate —through acts of imagination, memory, and performance—the larger socio-political, religious, and aesthetic controversies that informed early modern English experiences.
Encyclopedia Entries and Glosses
Annotations for Issue #12, "To Thine Own Self Be True." In Kill Shakespeare: The Backstage Edition. By Anthony Del Col and Conor McCreery (IDW Publishing, 2015).
Entries for Childbirth, Child-Rearing, Midwives, Churching and Pregnancy for The Global Shakespeare Encyclopedia, ed. Patricia Parker (forthcoming, Stanford University Press online)
University Teaching Experience
Breadloaf School Of English, Ripton, VT
Graduate Courses
Shakespeare's Later Plays
Sex, Gender and the Body in Early Modern England
Male, Female, Other
"Remember Me": Making History in Shakespeare's Plays
Boston College
Undergraduate Courses
Advanced Colloquium in Women's Studies
Making Sex in Early Modern England
Gender Crossings: Theories and Methods of Interpretation
Literature and Society: Writing from the Outside (Core)
First-Year Writing Seminar
Convents, Covens and Crusaders: Reading Communities of Women
Shakespeare's Early Plays
Shakespeare's Later Plays
Studies in Poetry
Narrative and Interpretation
Constructions of Gender in Early Modern England (Advanced Topics Seminar)
Graduate Courses
Advanced Research Colloquium (for 3rd-and 4th-year PhD students)
Growing Up Shakespeare
Gender Crossings: Theories and Representations (PhD seminar)
Feminist Inquiry: Strategies for Effective Scholarship  (for the Graduate Consortium in Women's Studies)
Shakespeare
Sex, Gender, and the Body in Early Modern England (taught as both a PhD seminar and an M.A.-level colloquium)
Courses for Secondary-School Teachers
Shakespeare Pedagogy Lab
Imperial Shakespeare (for the Classical Association of New England Summer Institute, Dartmouth College)
The Ohio State University
Undergraduate Courses
Honors Seminar: Writing the Body in Early Modern England
Shakespeare and His World
Convents, Covens, and Crusaders
First-Year Writing
Graduate Courses
Introduction to Graduate Studies
Sex, Gender and the Body in Early Modern England
Stanford University
Undergraduate Seminar: Renaissance Obstetrics and the Poetics of Childbirth
Freshman Writing and Critical Thinking