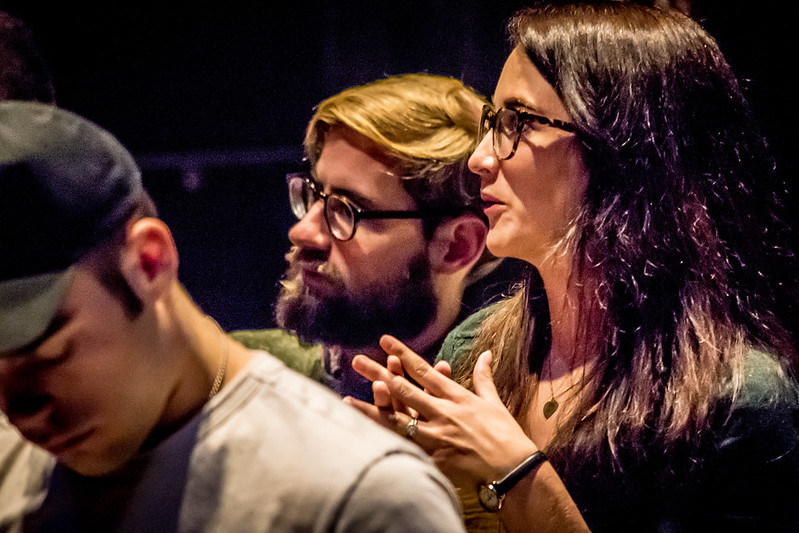 This Week in English | October 14 – 20, 2019
Indigenous Peoples Day
As Maine celebrates Indigenous Peoples Day for the first time, it makes sense to revisit the Memorandum of Understanding signed in May 2018 by representatives of the Penobscot Nation and the University of Maine, and to take note of the new signs on campus that recognize the region's thousands of years of Wabanaki heritage. As Professor Darren Ranco says in an article by English alum Emily Burnham that ran in the Bangor Daily News in July, the new signage is:
doing the work that we hoped it would do, which is to invite the community to engage with the understanding of this place — where we are on the landscape, who we are and to remind you that you are on Wabanaki territory…. The place-names in our language are already descriptive, in that they tell you where you are in the world. These signs are here to help people better understand that.
Call for Student Volunteers: Open House on Saturday Morning
This Saturday, October 19, the English Department will take part in an Open House event that begins at 9am in the New Balance Field House and includes a tour of Neville Hall and presentation about the department in the Wicks Room (Neville 304) at a little after 10am. English majors and minors who would be willing to share their perspectives on the program, and UMaine more generally, are invited to contact me about participating. The event wraps up by 11am and volunteers need not be available for the full two hours. 
Success After College: New One-Credit Course for Juniors and Seniors
Naomi Jacobs will be offering a new one-credit course in spring 2020 that is designed to help English majors in their junior or senior year think forward to life after the BA, whether they want to go to graduate school or to move directly into employment. Topics to be covered include:
What you can do with your English major: Class visits from former English majors who working in unexpected fields like finance, business, IT, and restaurant management, as well as those following more common paths into teaching, writing, and editing.
Strengthen your credentials: Build a portfolio of writing or editing projects. Seek work experience through internships. Take classes in related fields such as business or communication.
Prepare for the job market: Research job openings. Develop customized application letters and resumes. Practice interview skills and professional demeanor. Request letters of recommendation
The Graduate School option: Understand assistantship funding. Find a program that fits. Consider other disciplines that may admit English majors. Write your statement of purpose. Polish your writing sample.
As a culminating project, students will develop and deliver an "elevator pitch" about the value of the English major. 
The course appears on MaineStreet as ENG 497-0001; it meets on Mondays at noon in the Hatlen Room (NV 406).
2019 Millay Prize 
In the summer of 2009, Frank and Helene Crohn generously provided the National Poetry Foundation (now the Center for Poetry and Poetics) at the University of Maine with the means to establish an Edna St. Vincent Millay Prize for Poetry. 
The Millay Prize seeks to reward achievement in poetry at a crucial, early stage in a writer's development while commemorating the legacy of one of Maine's best known and most loved poets, Edna St. Vincent Millay, who herself received the gift of an education at Vassar College in part through the generosity of Caroline B. Dow.
The external judge for the 2019 Millay Prize was Kathleen Ossip (NWS F'2011), who reviewed manuscripts blindly (in anonymous form). 
It is our pleasure to announce the following awards:
First prize ($3000) to Katherine Dubois for her manuscript "Signaling."
Second prize ($2500) to Paul Eaton for his manuscript "Submerged Narratives" (excerpts).
Third prize ($2000) to Cassidy Marsh for her manuscript "Case Studies of Millennials."
Honorable mention to Lydia Balestra, Martin Conte, Victoria Hood, Nicholas Rotter-Weller, and Ryan Stovall (additional awards between $500-$1500 each). 
Profiles of the award recipients will appear in future installments of the bulletin and a public celebration with Kathleen Ossip is planned for spring 2020.
Madeline Sayet and William S. Yellow Robe Events This Week
This Wednesday, October 16, Madeline Sayet will direct William S. Yellow Robe's one-person performance "De-Colonization Is Not a Reality Show" at 6pm in Lord Hall 100.
On Thursday, October 17, Sayet will present "Indigenous Shakespeares" at 4:30 in the Fernald APPE space in the IMRC.  
Award winning Mohegan director and Visiting Libra Professor Madeline Sayet will discuss the historical relationship between Native peoples and Shakespearean performance, and how Native artists have used Shakespearean productions as a tool to reclaim their voices and empower the Native Theater movement. For more information, visit the McGillicuddy Humanities Center event page. 
Both events are related to Sayet's three-week visit to campus as Libra Professor, which has been facilitated by William Yellow Robe and Margo Lukens with support from Native American Studies, the School of Performing Arts Division of Theater/Dance, the Art Department, and the English Department. 
Hollie Adams in the New Writing Series on October 24
Please mark your calendars for a newly added event on October 24, when the New Writing Series will welcome our new colleague in Creative Writing, Hollie Adams, to read from her fiction. Adams is teaching the graduate workshop in fiction this fall along with a 300-level course on Canadian Literature. She is a faculty affiliate with the Canadian-American Center, which is one of the leading institutes for the study of Canada in the United States.  Her reading will be in the usual venue (Fernald APPE Space, Stewart Commons) at 4:30pm.
Photo albums from Sarah Rose Etter's reading in September and last Thursday's reading by Sarah Green and Sara Nicholson are now uploaded to the NWS Flickr page. 
"Others, Othering, and Othello" on November 6
On November 6, the Stephen E. King Chair is sponsoring a community workshop on "Others, Othering, and Othello" from 5:30-7:30 in the Cyrus Pavilion Theatre. 
In this performance-based workshop, we will explore the characters of Othello, and the ways in which they "Other" one another. How do race, gender, religion, and class function in the play, and what can we learn by getting on our feet and exploring some scenes from one of Shakespeare's greatest tragedies together? We will dig into the meaning of the text by considering its metrical and rhetorical components, and then move out to the broader context of performing Othello in today's environs. No need to read anything in advance. Just come ready to play and to be played to by professional actor Cordell Cole and American Shakespeare Center education director, Sarah Enloe. Note: Due to the mature subject matter of the play, this workshop is not recommended  for children under the age of 14.
#
This Week in English 64 was sent to faculty, students, and friends of the department on Monday, October 14, 2019. If you would rather not receive these weekly bulletins, please reply with <unsubscribe> in your subject line. Earlier installments are archived on our website. 
If you would like to support the mission of the English Department, please consider a donation to the Annual Fund through this secure online portal.