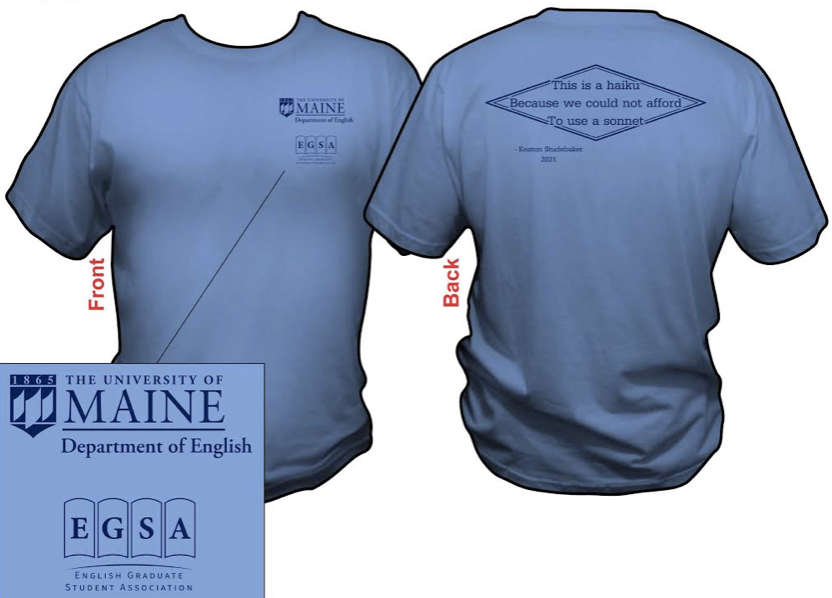 This Week in English | November 16-22, 2020
"You've got to be realistic, and you've got to understand that you don't make the timeline, the virus makes the timeline." — Anthony Fauci, March 26, 2020
Brother Can You Spare a Poem? The English Graduate Student Association (EGSA) conducted its second annual Haiku contest earlier this fall, selecting both a runner up and a winner. We congratulate runner-up Chantelle Flores for her entry:
Open-jaw chatter,
His paws land light on blankets,
A brittle leaf drops.
And kudos to second year MA candidate Keaton Studebaker, whose winning entry is a sort of meta-haiku:
This is a haiku
Because we could not afford
To use a sonnet
T-shirts sporting Studebaker's haiku are in production now and should be ready for sale at the modest price of $15 before Thanksgiving. Proceeds from their sale support the mission of EGSA. Please write to EGSA for more information about ordering.
Alumna Emily Burnham Interviews Space Archeologist This Afternoon
BDN reporter and UM English alumna Emily Burnham interviews Bangor native Sarah Parcak, space archaeologist on Tuesday, November 17, at 5pm. The event is free but registration is required.
Parcas's book, "Archaeology from Space: How the Future Shapes our Past", is being released as a paperback. You can pre-order an autographed copy of her book through The Briar Patch bookstore in downtown Bangor.
Sarah Parcak is a professor of anthropology at the University of Alabama at Birmingham, CEO of GlobalXplorer, and director of the Joint Mission to Lisht (Egypt). Her remote sensing work has been the focus of three BBC specials covering Egypt, ancient Rome, and the Vikings. She is a Fellow in the Society of Antiquaries, a 2014 TED Senior Fellow, the winner of the 2016 TED Prize, and a National Geographic Fellow.
Lukens Joins Ranco and Bear Mitchell to Discuss Decolonization Wednesday
As you may have seen in President Ferrine-Mundy's "Maine Memo," November programming in recognition of Native American Heritage month includes this event on Wednesday:  
Dr. Ranco, John Bear Mitchell and Dr. Margo Lukens will unpack "What does Decolonization Mean?" at noon Nov. 18. They'll discuss centering Indigenous cultures, places, and people in the modern university and highlight ways that's being done at UMaine. 
Spire Seeks Submissions
The editors of Spire asked us to share the word that they're seeking submissions for a fifth annual edition to be published this spring. Here's their invitation:
Do you have interest in a photo spread on the beautiful seasons of wild blueberries? Have you been reflecting on the impacts of our changing climate? Or maybe an analysis about diversifying Maine's coastal economy peaks your interest? If so, Spire: the Maine Journal of Conservation and Sustainability, would like to hear from you. Spire's editorial team at the University of Maine invites submissions for the fifth issue of the online journal, planned for release in spring 2021. Issue 4, released April 2020, is now live! 
Spire seeks to include voices from a diverse range of people throughout Maine and the Northeast to join our mission to galvanize action for conservation and sustainability by promoting impactful, awareness-raising dialogue.
Submissions should in some way concern the environment, conservation and/or sustainability — whether it's current developments, ongoing issues, scientific findings or artistic insights on environmental themes. Work that can be broadly connected to Maine is encouraged. Please visit our website to explore past issues for insight into the range of work included in our journal, and guidelines for submitting.
February 1, 2021 is the deadline for submissions. Submissions can be sent to spire@maine.edu, as well as any questions or interest in joining our team behind the scenes. 
Quicks Links
Another Departmental Drop By This Friday
A lively mix of current BA and MA students, faculty, and alums cheerfully overcame collective triskaidekaphobia last Friday to spend some time together talking about life and literature. We'll meet again via Zoom this Friday between 3:30 – 5pm (request invitation here). Don't be shy, drop by—for a few minutes, or for the whole time, whatever works best for you and your household.
Covid Reminder
If you or people you know in the UMaine community have concerns about COVID-19 symptoms, close contact or a positive test, call the COVID-19 info line at 207-581-2681 or fill out the online self-reporting form or email umaine.alerts@maine.edu.
This Week in English 85 was sent to faculty, students, and friends of the department on Tuesday, November 17, 2020. If you would rather not receive these weekly bulletins, please reply with <unsubscribe> in your subject line. Earlier installments are archived on our website.
If you would like to support the mission of the English Department, please consider a donation to the Annual Fund through this secure online portal.