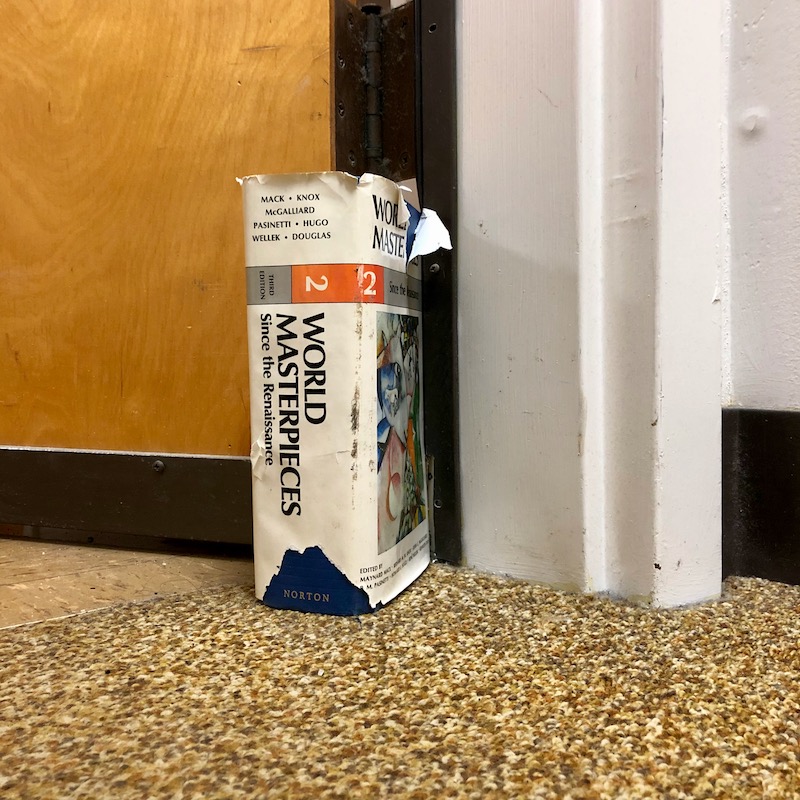 This Week in English | March 8-14, 2021
English Department Drop-By on Friday
The English Department hosts virtual drop-bys most Friday afternoons to talk informally about matters of mutual interest and to compare notes on the week that was. A friendly mix of majors, minors, graduate students, professors, and alumni—plus partners, kids, and pets—have joined the conversation from one week to the next and created a warm and generous online cultural salon. We'll gather again this Friday at 4pm and keep the space open until about 5:30 (Zoom link by request). Feel free to drop by for just a few minutes or to stay a spell: we welcome your good company!
For this Friday, we'd like to especially encourage current English majors to attend. There's no syllabus, agenda, or script—and how else are you going to get a glimpse of the cats and dogs that frequently make cameos each Friday? Chats with cats, can't beat that!  
Recent Graduate Publishes in Windsor Review
The Windsor Review, for which Hollie Adams serves as fiction editor, published its Spring 2021 issue (vol 53, no 2) last week. It features fiction by UMaine English alum Katie Skvorak. Katie's "The Old Man and the Moon" was one of the short stories included in her creative Honors Thesis, which she defended in spring of last year, and was selected as one of only two short stories to be published in this issue. The Windsor Review is an open-access journal, and the latest issue can be read online here. 
Arthur Boatin Play on Thursday
The Daughter of the Ruler of the Seas and Tides, a new full-length play by Arthur Boatin, will have a Zoom reading Thursday, March 11, at 7:30pm, accessible through this site. The play is set in Downeast Maine.
Boatin taught in the University of Maine English Department between 1986 and 1991. He is the husband of professor emerita and fiction-writer Elaine Ford, who died in 2017.
Recent Publications by Bruce Pratt
Bruce Pratt is an alum of the Master's program (Fiction, S'04) who is also a member of the part-time faculty in Creative Writing. His story "Om Land Security" will be published in the next issue of The Clackamas Review and his poem, "That's Not Right," will be featured in the next Poetry Box anthology devoted to pandemic poetry. His story "Alex the Amazing" will appear in the next issue of Portland Magazine. Three of Bruce's poems—"Sugarloaf December," "Skating with the Eagle," and "Cloud Skating"—will appear in the next issue of Aethlon: The Journal of the Sport Literature Association.
Alumni Reunion on March 17
We'll welcome alumni from all over the state and nation to catch up on the news of the department, including the upcoming renovation of Neville Hall, in a lunchtime Zoom scheduled for Wednesday, March 17, 2021. If you're in touch with alumni, please let them know about this meeting and ask them to RSVP here. 
Quick Links
Covid Reminder
If you or people you know in the UMaine community have concerns about COVID-19 symptoms, close contact, or a positive test, call the COVID-19 info line at 207-581-2681 or fill out the online self-reporting form or email umaine.alerts@maine.edu.
---
This Week in English 96 was sent to students, faculty, staff, alumni, and friends of the department on Monday, March 8, 2021. If you would rather not receive these weekly bulletins, please reply with <unsubscribe> in your subject line. Earlier installments are archived on our website. If you're on Facebook, please consider joining the newly formed English Department Group.
If you would like to support the mission of the English Department, please consider a donation to the Annual Fund through this secure online portal.