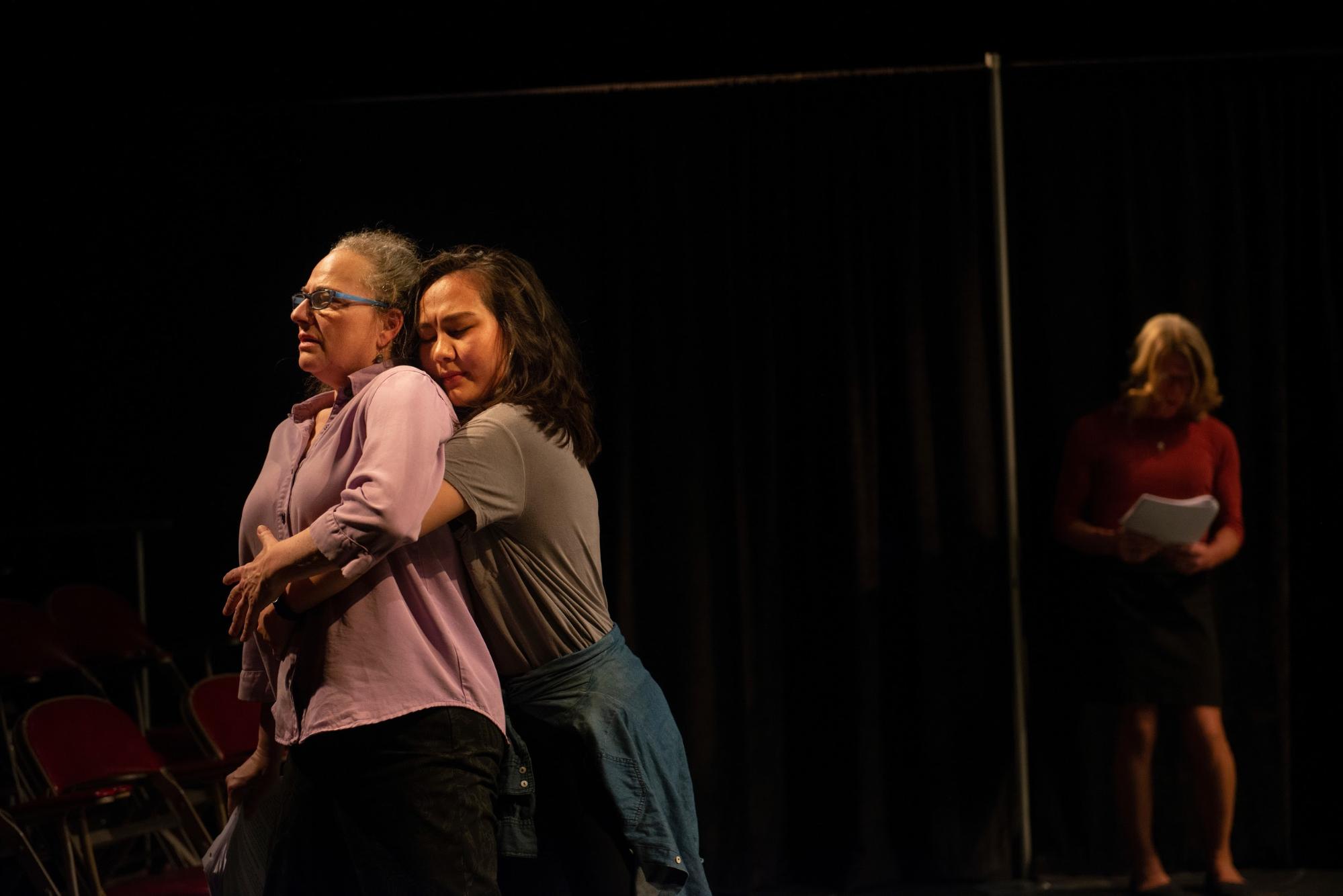 This Week in English | March 15-21, 2021
Staging Other's Lives
Newly hired assistant professor of Theatre and English Rosalie Purvis invites students and colleagues to join a workshop and conversation with artist-scholar Caitlin Kane about the process of creating documentary theatre with and about diverse queer communities. 
What: "Staging Others' Lives: The Politics of Queer Documentary Theater"
When:  Wednesday, March 17th, at 2:00 (EST)
Where: The workshop will be HYBRID with a few slots still open to attend in person. Our in-person location will be the Black Box Theatre in Class of 1944 Hall.
Registration is required for this meeting: register here
Caitlin Kane is a doctoral candidate in Cornell University's Department of Performing and Media Arts. Her dissertation, "Acts of Witness: Confronting Testimonial Injustice in Research-Based Performance," draws on feminist philosophy and queer theory to examine how artists use archival, ethnographic, and testimonial methodologies to mitigate particular forms of epistemic injustice. Caitlin is also a freelance dramaturg, director, and producer based in Chicago. Her current artistic projects include co-writing The Loneliness Project with Kelli Simpkins, assistant directing the world premiere of Leigh Fondakowski's Casa Cushman, and dramaturging Josh Groffman and Sarah Heady's new community-based opera, Halcyon. 
I See Dead People
Caroline Bicks reports that she and her students in "Horror and Humanity" (a 400-level English class) are deep into the "I see Dead People" section of the course. In the past few weeks they've confronted the ambiguity of Henry James's ghosts in Turn of The Screw, the empathy of "The Sixth Sense," and the dreaded things that walk alone in The Haunting of Hill House. Professor Bicks is also teaching ENG 353: Shakespeare and the English Renaissance this spring and has a fair number of English majors who are taking both courses with her. Her book Cognition and Girlhood in Shakespeare's World will be published by Cambridge UP this July.
Intern Spotlight: Hannah Dyer Creates Public Awareness Campaign at the Health Equity Alliance
Hannah Dyer, who is majoring in English and Nursing and minoring in Women, Gender, and Sexuality Studies, is currently completing an internship with the Health Equity Alliance (HEAL) in Bangor. HEAL provides "direct service, advocacy, education, and outreach to Maine's marginalized populations." So far, Hannah's work has centered on public awareness about Naloxone (Narcan) through social media content and educational materials, for example by creating the "Myth Busting" infographic. 
The work I am doing at Health Equity Alliance allows me to combine my English and Nursing degree into one by providing education to the community and integrating public health and communication into public awareness," Hannah says. "Through HEAL I am learning how to adjust my rhetoric and present it to the public in easy ways to comprehend and digest. I am using my English major at HEAL by developing factual, critical data and presenting it in an infographic that is accommodating to all members of the greater Penobscot area."
For more information on internship opportunities for English majors, please contact Dr. Katie Swacha.
Alumni Reunion This Wednesday
More than fifty alumni from graduating classes ranging from 1951 to 2019 will gather to catch up on the news of the department, including the upcoming renovation of Neville Hall, in a lunchtime Zoom scheduled for Wednesday, March 17, 2021. If you are, or are in touch with, an alum please let them know about this meeting and ask them to RSVP here.  
Tournament of Books
English major and Fogler Library student ambassador Molly Glueck passes along the news that Fogler Library is hosting a March Madness style "Tournament of Books" book bracket in honor of National Library Week in April. Library Ambassadors are currently in the process of procuring suggestions for books that students would like to see on the bracket. English alum Brad Beauregard, who is public relations manager for the Fogler, created a Google Form in the hopes of getting some recommendations from fellow book lovers! 
Quick Links
Virtual roundtable on "Women in Leadership and Social Justice: The Importance of Diversity, Equity and Inclusion" via

YouTube

at 4pm today

Deadline for submission to

Quirk

, an undergraduate literary journal in Texas, is April 7
English Department Drop By
We'll once again gather around the Zoom hearth for a Friday catch-up with students, faculty, staff, alumni, and friends of the department. As a senior double major writes: "The informal nature of the drop ins are wonderful and allow an open discussion of anything from pets, to recent reads, to upcoming events. I enjoy the opportunity to both share and absorb any discussion that tends toward literature and writing specifically."  
Covid Reminder
If you or people you know in the UMaine community have concerns about COVID-19 symptoms, close contact, or a positive test, call the COVID-19 info line at 207-581-2681 or fill out the online self-reporting form or email umaine.alerts@maine.edu.
---
This Week in English 97 was sent to students, faculty, staff, alumni, and friends of the department on Monday, March 15, 2021. If you would rather not receive these weekly bulletins, please reply with <unsubscribe> in your subject line. Earlier installments are archived on our website. If you're on Facebook, please consider joining the newly formed English Department Group.
If you would like to support the mission of the English Department, please consider a donation to the Annual Fund through this secure online portal.