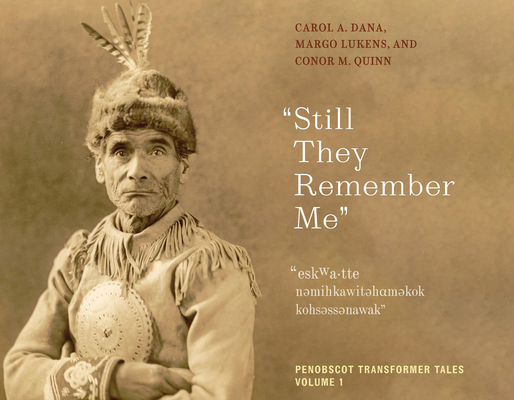 This Week in English | April 12-18, 2021
Transformer Tales in the New Yorker
The issue of the New Yorker that appeared online yesterday and will be on newsstands on April 19 includes a "letter from Maine" (in the tradition of E.B. White) by Alice Gregory that centers on the partnership of Penobscot Nation member Carol Dana and the linguist Frank Siebert. As Gregory writes: "Dana, who is sixty-eight, learned most of what she knows of Penobscot not from her tribal elders but from Frank Siebert, a self-taught linguist who hired her, in 1982, as a research assistant. He was seventy; Dana was thirty." Gregory's six-thousand-word essay includes praise for 'Still They Remember Me': Penobscot Transformer Tales, Volume 1, co-edited by Dana with Margo Lukens and Conor Quinn.
It will be the first commercial book to use Siebert's writing system, with each story printed in Penobscot on the left page and in English on the right, and featuring illustrations by Penobscot artists. The publishing contract notes that all royalties will go to the Penobscot Nation, as will decisions regarding film or television rights. Every Penobscot household that wants a copy of the volume, priced at $24.95, will receive one for free. As a teaching tool, the stories are far superior to Siebert's dictionary. Dana hopes that the new book can make the language accessible to future generations. If Siebert's legacy was writing down the language, Dana's is letting it be read, and its stories be told.
Kristyn Gerow Accepted into Screenwriting Program in California
Kristyn Gerow is an alum of both our BA and MA programs who has recently been teaching part-time for the department. This fall she starts a new chapter in Orange County, California. Gerow writes: 
I'm really excited to attend Chapman University's MFA in screenwriting this fall. I've always wanted to transmute my fiction into flesh as a showrunner who carves out space in TV where Black/Brown people can fall in love, survive in horror situations, and be the princesses and princes in a futuristic hell-waste; where Black/Brown people can be seen being ill, sick, and tired, and simply exist. I'm going to miss UMaine, and Maine's beautiful seasons, terribly. I've learned a lot from my time as a UMaine undergraduate student, graduate student, and adjunct, and I'll be taking these lessons with me to California. 
If you have news about your next step—a big move, a new job, an acceptance into a program, a "life event"—we'd love to share it in a future bulletin, so don't be shy!
Internship Info Session This Wednesday
Want to find out more about how to find an internship that can both prepare you for English-related careers and earn you credit towards your English degree? Plan to attend the Internship Info Session this Wednesday, April 14th from 11:00-noon via Zoom. Please contact Dr. Katie Swacha with questions.
A New Review of Elizabeth Neiman's Recent Book
The winter issue of Eighteenth-Century Studies includes a review by Norbert Schürer—who is a professor of English at Cal State Long Beach—of Elizabeth Neiman's study of Minerva's Gothics: The Politics and Poetics of Romantic Exchange, 1780-1820. Calling it a "fantastic book," Schürer notes that 
Minerva's Gothics convincingly makes a two-part argument. For one, the productions of the Minerva Press are not simple, formulaic novels, but rather sophisticated texts that harness shared conventions to make important social, cultural, and ideological arguments. Secondly, in spite of the Romantics' claims that poetic genius was independent of such conventions, even these canonical authors were actually fully implicated in the same prolific print culture and shared social text. With these conclusions, the excellent Minerva's Gothics offers a fresh look at the Romantic period and its ideas about the roles of women, the social order, and poetic genius.
If on the basis of this review (available in full here) you are inclined to check the book out from Fogler Library, you'll have to wait: we have it on good authority (based on revelations at our "drop by" last Friday) that it is already on the dorm room bookshelf of a first-year English major! 
Dylan Dryer on Maternal Anxiety Next Wednesday
Dylan Dryer will be a respondent at an NYU Press book launch next Wednesday, April 21. The event celebrates the publication of Dara Rossman Regaignon's Writing Maternity: Medicine, Anxiety, Rhetoric, and Genre. 
When did mothers start worrying so much? Why do they keep worrying so? Writing Maternity answers these questions by identifying the nineteenth-century rhetorical origins of maternal anxiety, inviting readers to think about worrying not as something individual mothers do but as an affect that since Victorian times has defined middle-class motherhood itself. In this book, Rossman Regaignon offers the first comprehensive study of child-rearing advice literature from early-nineteenth-century Britain and argues that the historical emergence of that genre catalyzed a durable shift in which maternal care was identified as maternal anxiety.
As Dryer writes, "the author invited folks whose theoretical work she synthesized for her approach: a literature scholar, a professor of pediatrics, and me, which might be an interesting mix." The event, which takes place from 6-7:30pm EDT, is free but registration is required here. 
EGSA Symposium Set for April 22
The English Graduate Students Associate (EGSA) will be hosting the English Graduate Symposium on Thursday, April 22nd, from 5:00-7:00 p.m. This year's symposium will be a hybrid event. The in-person event will take place in Little Hall, room 120, and will abide by current public health guidelines. Individuals may also attend remotely through this link at the above specified date and time. 
Vaccine Survey Designed by English Major  
Current students and faculty are invited to take this COVID-19 vaccine survey, designed by English major Katherine Reardon. The survey is part of an ongoing collaboration with the UMaine COVID Communications Team and Dr. Katie Swacha's ENG 402: Communicating COVID class. Survey responses will be anonymous and will be used to inform the development of a vaccine website, and other potential resources, for UMaine students and parents. Dr. Swacha and her students in ENG 402 thank you in advance for your participation!
Write a Poem Every Day in April with Storied's Poetry Month Challenge
For National Poetry Month, challenge yourself to write a poem every day with UMaine's creative writing club, Storied! Go to @storiedumaine on Instagram for daily prompts, and tag the group in your poems to be featured on their account!
Professor Emerita's Book Shortlisted for a Lambda Literary Award
Professor Emerita Josephine Donovan's new book, The Lexington Six: Lesbian and Gay Resistance in 1970s America, has been named a finalist for a Lambda Literary Award in the category LGBTQ Nonfiction. Finalists were selected by a panel of over sixty literary professionals from more than a thousand submissions from over three hundred publishers. The jacket copy provided by the publisher reads:
On September 23, 1970, a group of antiwar activists staged a robbery at a bank in Massachusetts, during which a police officer was killed. While the three men who participated in the robbery were soon apprehended, two women escaped and became fugitives on the FBI's Ten Most Wanted list, eventually landing in a lesbian collective in Lexington, Kentucky, during the summer of 1974. In pursuit, the FBI launched a massive dragnet. Five lesbian women and one gay man ended up in jail for refusing to cooperate with federal officials, whom they saw as invading their lives and community. Dubbed the Lexington Six, the group's resistance attracted national attention, inspiring a nationwide movement in other minority communities. Like the iconic Stonewall demonstrations, this gripping story of spirited defiance has special resonance in today's America. 
Drawing on transcripts of the judicial hearings, contemporaneous newspaper accounts, hundreds of pages of FBI files released to the author under the Freedom of Information Act, and interviews with many of the participants, Josephine Donovan reconstructs this fascinating, untold story. The Lexington Six is a vital addition to LGBTQ, feminist, and radical American history.
The awards ceremony is planned for June 1, 2021. You can reserve a virtual seat here. Thanks to Deborah Rogers for calling this important honor to our attention!   
Departmental Drop By
We'll meet again via Zoom (link by request) this Friday at 4pm to talk informally about the week that was, what we're reading and watching and thinking about, and how we're all doing. Come for a few minutes or settle in for a nice long visit with fellow students, faculty, alumni, and friends of the department.
Covid Reminder
If you or people you know in the UMaine community have concerns about COVID-19 symptoms, close contact, or a positive test, call the COVID-19 info line at 207-581-2681 or fill out the online self-reporting form or email umaine.alerts@maine.edu.
---
This Week in English 101 was sent to students, faculty, staff, alumni, and friends of the department on Tuesday, April 13, 2021. If you would rather not receive these weekly bulletins, please reply with <unsubscribe> in your subject line. Earlier installments are archived on our website. If you're on Facebook, please consider joining the newly formed English Department Group.
If you would like to support the mission of the English Department, please consider a donation to the Annual Fund through this secure online portal.