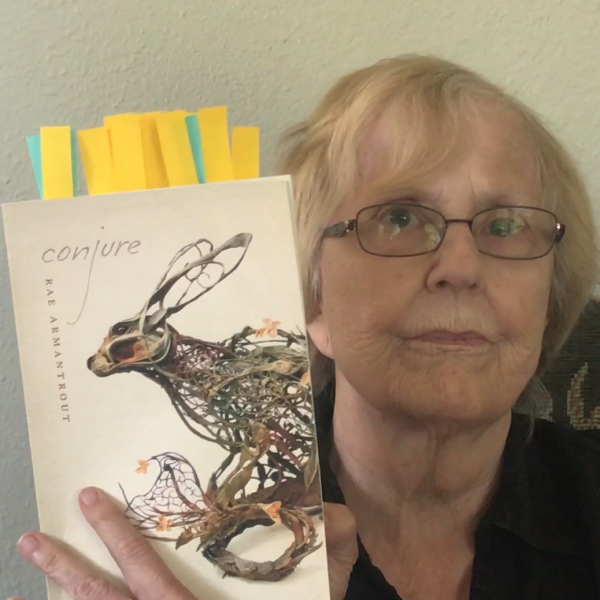 This Week in English | April 19-25, 2021
Lots to celebrate in this installment of the weekly bulletin! If you have good news to share with the wider departmental community, please do not hesitate to be in touch. And if you're free Friday afternoon, do drop by (scroll down for details). 
Sarah Penney Named Outstanding Graduating Senior 
Sarah Penney will be recognized as the outstanding senior in the 2021 graduating class of English majors at this afternoon's CLAS Student Awards Ceremony and Celebration. From medieval sagas to the emergent rhetorics of Covid-19, Penney has distinguished herself across the English curriculum and earned praise from faculty members such as Sarah Harlan-Haughey, Katie Swacha, and Margo Lukens. As a 2019-2020 McGillicuddy Humanities Center Undergraduate Fellow, Penney studied Norse mythology, poetics, and linguistics under the direction of Dr. Harlan-Haughey. In addition to completing the English major, with a concentration in analytical writing, Penney has earned minors in Folklore and Traditional Arts and Media Studies. She was James S. Stevens Outstanding Junior in 2020.
2021 Millay Prize for Poetry 
In the summer of 2009, Frank and Helene Crohn generously provided the National Poetry Foundation (now the Center for Poetry and Poetics) at the University of Maine with the means to establish an Edna St. Vincent Millay Prize for Poetry. The Millay Prize seeks to reward achievement in poetry at a crucial, early stage in a writer's development while commemorating the legacy of one of Maine's best known and most loved poets, Edna St. Vincent Millay, who herself received the gift of an education at Vassar College in part through the generosity of Caroline B. Dow.
This year's external judge was Rae Armantrout. The author of more than ten collections of poetry, Armantrout has also published a short memoir, True (1998). Her Collected Prose was published in 2007. Her most recent collections include Conjure (2020); Versed (2009), which won the 2010 Pulitzer Prize in Poetry and a 2009 National Book Critics Circle Award, and was a finalist for the 2009 National Book Award; Itself (2015); Partly: New and Selected Poems (2016); Entanglements (2017); and Wobble (2018), a finalist for the National Book Award. This spring, Armantrout was the poet featured in Honors 180: A Cultural Odyssey, taught by Mimi Killinger. A keynote performer in the NPF's conference on The Poetry of the 1970s in 2008, Armantrout also read in the New Writing Series in the fall of 2009 and the spring of 2002. 
Armantrout selected the following manuscripts for the 2021 Millay Prize: 
First prize to first-year MA candidate 

Adam Ray Wagner

for "Faces and Forms"

Second prize to first-year MA candidate 

Christopher Thomas

for "He Dreams Footnotes"

And honorable mentions to Lydia Balestra, Keaton Studebaker, and Dylan Morin.
We'll have more about the winners and their manuscripts in future bulletins and are planning to host Rae Armantrout in the New Writing Series this coming fall.
Undergraduate Literary Journal Now Live
The Spring 2021 edition of The Open Field was edited and assembled by English undergraduate students Nola Prevost and Lily Comeau-Waite under the faculty mentorship of assistant professor Hollie Adams. You can click here to read the current issue, which features poetry, visual art, and fiction by a wide range of students, including some regulars at our weekly departmental drop bys (see below).  Update The editors have announced a virtual launch party via Zoom this Wednesday at 4pm (link by request here).
Dylan Dryer on Maternal Anxiety on Wednesday
Dylan Dryer will be a respondent at an NYU Press book launch this Wednesday, April 21. The event celebrates the publication of Dara Rossman Regaignon's Writing Maternity: Medicine, Anxiety, Rhetoric, and Genre. 
When did mothers start worrying so much? Why do they keep worrying so? Writing Maternity answers these questions by identifying the nineteenth-century rhetorical origins of maternal anxiety, inviting readers to think about worrying not as something individual mothers do but as an affect that since Victorian times has defined middle-class motherhood itself. In this book, Rossman Regaignon offers the first comprehensive study of child-rearing advice literature from early-nineteenth-century Britain and argues that the historical emergence of that genre catalyzed a durable shift in which maternal care was identified as maternal anxiety.
As Dryer writes, "the author invited folks whose theoretical work she synthesized for her approach: a literature scholar, a professor of pediatrics, and me, which might be an interesting mix." The event, which takes place from 6-7:30pm EDT, is free but registration is required here. 
EGSA Symposium on Thursday
The English Graduate Students Associate (EGSA) will be hosting the English Graduate Symposium on Thursday, April 22nd, from 5:00-7:00pm EDT. This year's symposium will be a hybrid event. The in-person event will take place in Little Hall, room 120, and will abide by current public health guidelines. Individuals may also attend remotely through this link at the above specified date and time. 
Interview with Brian Jansen
Brian Jansen was interviewed last week for an episode of the podcast Darts and Letters (funded by a government of Canada Social Sciences and Humanities Research Council grant for public intellectual work) about his research on professional wrestling. "Wrestlers are workers," Jansen argues, "and as workers, face challenges shared by other workers — and some unique to their profession. And their fans, it turns out, are more progressive than you might think." 
Vaccine Survey Designed by English Major  
Current students and faculty are invited to take this COVID-19 vaccine survey, designed by English major Katherine Reardon. The survey is part of an ongoing collaboration with the UMaine COVID Communications Team and Dr. Katie Swacha's ENG 402: Communicating COVID class. Survey responses will be anonymous and will be used to inform the development of a vaccine website, and other potential resources, for UMaine students and parents. Dr. Swacha and her students in ENG 402 thank you in advance for your participation!
Write a Poem Every Day in April with Storied's Poetry Month Challenge
For National Poetry Month, challenge yourself to write a poem every day with UMaine's creative writing club, Storied! Go to @storiedumaine on Instagram for daily prompts, and tag the group in your poems to be featured on their account!
English Major Megan Ashe in Plunkett Poetry Festival at UMA on April 30
This year, The Plunkett Poetry Festival added two additional contests to their program:  the Outbreak! Writing Project, which will recognize written pieces including poems, flash fiction, short stories, creative nonfiction, essays, or any combination of blurred genres from the community, and the Outbreak Project Exhibition, which invited Maine visual artists from UMA, high schools, and surrounding communities to submit work for a juried exhibition at the Danforth Gallery. Outbreak Project Exhibition awards will be announced during the April 30 programming. English major Megan Ashe has been selected for the Outbreak! Writing Project and will be featured in the 4:30pm segment of the day's events.
Internship Opportunities for English Students
Students and Advisors: Please see the attached flier for more information about internship opportunities for English majors. If you are interested in pursuing an internship, contact Dr. Katie Swacha sooner rather than later in your internship search. Dr. Swacha often gets internship opportunities sent to her email inbox, such as this one—an internship with Common Cause, an organization working to expand and improve voting rights in Maine. If she knows of your interest in internships, she can forward these opportunities directly to you! 
Departmental Drop By
We'll meet again via Zoom this Friday at 4pm to talk informally about the week that was, what we're reading and watching and thinking about, and how we're all doing. Come for a few minutes or settle in for a nice long visit with fellow students, faculty, alumni, and friends of the department. We've heard whispers that MA alums Jill Hughes and Brendan Allen intend to attend, and Margo Lukens looks forward to sharing exciting news about the NEH grant she received just last week.
Covid Reminder
If you or people you know in the UMaine community have concerns about COVID-19 symptoms, close contact, or a positive test, call the COVID-19 info line at 207-581-2681 or fill out the online self-reporting form or email umaine.alerts@maine.edu.
---
This Week in English 102 was sent to students, faculty, staff, alumni, and friends of the department on Monday, April 19, 2021. If you would rather not receive these weekly bulletins, please reply with <unsubscribe> in your subject line. Earlier installments are archived on our website. If you're on Facebook, please consider joining the newly formed English Department Group.
If you would like to support the mission of the English Department, please consider a donation to the Annual Fund through this secure online portal.