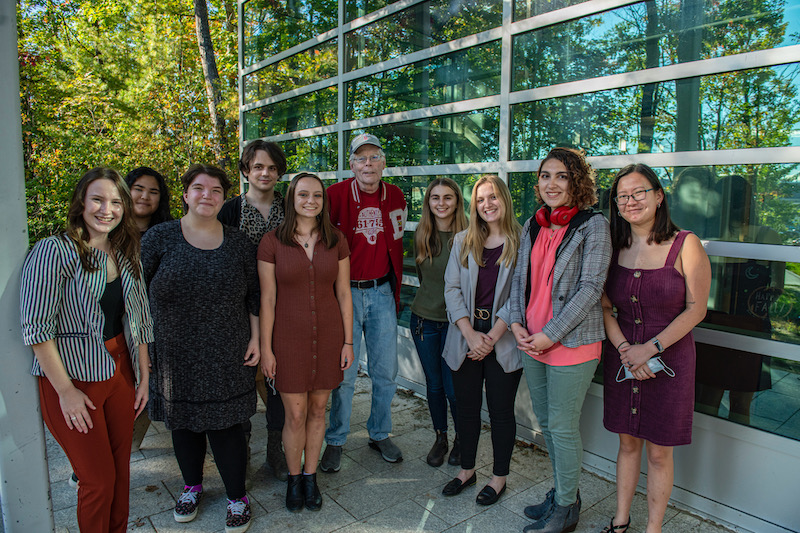 This Week in English | October 11-17, 2021
Stephen King Talks about Writing with English Majors 
International bestselling author and University of Maine alumnus Stephen King was on campus October 4th and 5th to speak with two groups of undergraduate English majors about writing and his career. 
The hour-long discussions, each with fifteen students, were organized by UMaine professor Caroline Bicks, who holds the Stephen E. King Chair in Literature.
On Monday, King spoke about his book, On Writing, which marked its twenty-first anniversary this year. The participating students read the memoir and engaged in a Q&A with King about his creative process and his evolution as a writer over the course of his career.
On Tuesday, King talked to the students about "Lisey's Story" and the teleplay that he wrote for AppleTV+ based on the novel, which King has described as his most personal. Students read the novel and watched the series in advance of the discussion. 
"I am overwhelmed by Mr. King's generosity. When I proposed these two events to him, I never imagined he would say yes to doing both," Bicks says. "Many of our undergrad majors come to UMaine with dreams of becoming writers like Mr. King. He is their idol, but he is also a relatable role model: someone who was once a UMaine English major just like them, trying to figure out how to succeed at something they love. 
"The students who participated in the discussions have been writing to me about the transformative nature of these events. One described it as 'an experience I will never forget that has given me a new-found jolt of inspiration in my writing.' Another simply wrote: 'This was easily the coolest experience of my life.'"
King Chair Hosts Susan Choi Events October 21-22
And in other King Chair news:  
On Thursday, October 21st, 5:30pm-6:30pm, National Book Award-winning novelist Susan Choi will be giving a talk and reading from her novel Trust Exercise as part of the Stephen E. King Chair Lecture Series. This event will take place in the Minsky Recital Hall (adjacent to the Collins Center for the Arts), and is free and open to the public (masks required). Books will be available for purchase and signing.
On Friday, Oct. 22, 10am-12:00pm in the Writing Center, Choi will be running a fiction-writing workshop for a limited number of students. If you are interested in this opportunity, contact Professor Bicks as soon as possible to reserve a spot. 
Millay Prize Reading on Thursday 
In the summer of 2009, Frank and Helene Crohn generously provided the National Poetry Foundation (now the Center for Poetry and Poetics) at the University of Maine with the means to establish an Edna St. Vincent Millay Prize for Poetry.
The Millay Prize seeks to reward achievement in poetry at a crucial, early stage in a writer's development while commemorating the legacy of one of Maine's best known and most loved poets, Edna St. Vincent Millay, who herself received the gift of an education at Vassar College in part through the generosity of Caroline B. Dow.
The external judge for the 2019 Millay Prize was Kathleen Ossip (NWS F'2011), who reviewed manuscripts blindly (in anonymous form). Ossip awarded first prize to Katherine Dubois for her manuscript "Signaling." Second prize went to Paul Eaton for his manuscript "Submerged Narratives" (excerpts).
On Thursday, October 14, 2021, the New Writing Series reaches back for one of two Millay Prize events that were disrupted by the pandemic (the celebration was originally planned for April 2020). Kathleen Ossip and Kat Dubois will read via Zoom before a live audience in Fernald APPE Space (Stewart Commons 104), and Paul Eaton will be present in person.
The event, which is free and open to the public, starts at 4:30pm. Visitors from off-campus can review the relevant university policy here. Masks are mandatory in all indoor spaces, including the performance venue.
Kathy Rice's photographs from the September 30 reading by Hollie Adams, Greg Howard, and Jennifer Moxley are now on Flickr.
Undergraduate Humanities Fellowship Deadline on October 17 
The deadline to apply for a McGillicuddy Humanities Fellowship worth $8000 over two semesters is October 17, 2021. Fellows conduct independent research on humanities topics with the mentorship of a faculty member. Instructions for the application process are available here. If you have an idea for a project but are unsure about a good mentor match, feel free to write to the department chair for advice.
A Glimpse into Michael Swacha's Teaching and Scholarship
Michael Swacha writes with this welcome update on his teaching and scholarship: 
In "Literature and the Modern World" (ENG 238), we had a wonderful discussion last week exploring, and often debating, the question of whether modern art is representational or autonomous. Our specific example was Picasso's Aficionado, where I asked: is this a representation of dream or memory, or simply oil on canvas and nothing more? The students in class began to form strong views on whether or not art can be independent of its creation and its reception, and whether it's experience is subjective to the viewer, is managed by the artist, or is simply beyond all grasp. It was wonderful to see the students debate with each other, as well as debate with the views of the secondary text we read about cubism, and to see them turn to previous discussions of Virginia Woolf's "The Mark on the Wall" and the philosophy of William James and Henri Bergson in order to articulate and grapple with modern art and the questions and problems it raises.
In other news, I'm happy to say that my article, "Fragmentation, Relationality, and the Possibility of Form: Reconsidering Darl in Faulkner's As I Lay Dying," has been officially accepted for publication in The Faulkner Journal, and is forthcoming in issue 33.1. The article positions one of the novel's central characters in a new critical light, and in doing so shows how this character functions as a means for Faulkner to explore and imagine new and alternative forms of relation and subjectivity—which in turn offers a glimpse of a kind of intersubjective human emancipation.
A Glimpse into the First Year Composition Program
This week's glimpse into the first-year composition classroom  features Danielle Gabrielli, a doctoral student from the Literacy Education program at the University of Maine. This past weekend she was invited to present a published paper co-authored with her advisor, Timothy Reagan, called "Linguicism, Linguistic Legitimacy, and Raciolinguistics in Education" at the NEPES (Northeastern Philosophy of Education Society) conference in Burlington, Vermont. Gabrielli  is currently working towards completing her doctorate with a dissertation exploring family literacy through examining how older siblings teach younger siblings how to write. Additionally, she was recognized as the Outstanding Literacy Graduate Student in the spring of 2021.  Her plans are to teach both English and Education coursework once she graduates. 
In her English 101 classroom, students are focusing on engaging with Kevin Roozen's case study "From Journals to Journalism: Tracing Trajectories of Literate Development" which traces one student's movement from different disciplines as she works to locate her existing writing practices within a university. Gabrielli's students are finding critical ways to apply the knowledge of what they learn of the student's practices to their own writing. 
Foster Center for Innovation: Bring Your Own Brain Event
The Foster Center for Innovation is hosting an event on Friday, October 22, that students are encouraged to attend:
Are you a problem solver? Do you have an idea for a product/service or want to use your skills to help a student startup? Be part of launching a startup in a single night! Come with an idea (if you have one), join a team (everyone will be placed), and launch a startup, all in six hours! Just bring your brain, and we'll teach you the tools to make the ideas real. We'll have all the free food & caffeine to fuel you, and $2000 will be up for grabs for the top teams! RSVP (and show up) to be entered to win a $50 The Tacorita gift card—and bringing a friend enters you twice! Feel free to reach out to Emma Richardson (emmaline.richardson@maine.edu) with any questions. RSVP: bit.ly/umchallenge.
MHC Hosts Poetry Pop Up Event October 23
The McGillicuddy Humanities Center is sponsoring a Fall Poetry Pop Up on Saturday, October 23, 2021, at 1:30 p.m. The open-mic poetry reading will be held outdoors at the Orono Village Green amphitheater, located behind the Orono Public Library at 39 Pine Street. The event, which is free and open to the public, welcomes poets of all ages to share their work. Hot apple cider and other fall refreshments will be served. Poets are asked to keep their readings to five minutes in length maximum to make sure that everyone interested in reading has time to do so. If additional time is available at the end, poets will be allowed to read additional material. While poets can sign up to read on the spot, advance confirmation is always appreciated at mhc@maine.edu. We ask that poets consider a public library audience when selecting which poems to read.
---
This Week in English 109 was sent to students, faculty, staff, alumni, and friends of the department on Tuesday, October 12, 2021. If you would rather not receive these weekly bulletins, please reply with <unsubscribe> in your subject line. Earlier installments are archived on our website. If you're on Facebook, please consider joining the newly formed English Department Group.
If you would like to support the mission of the English Department, please consider a donation to the Annual Fund through this secure online portal.