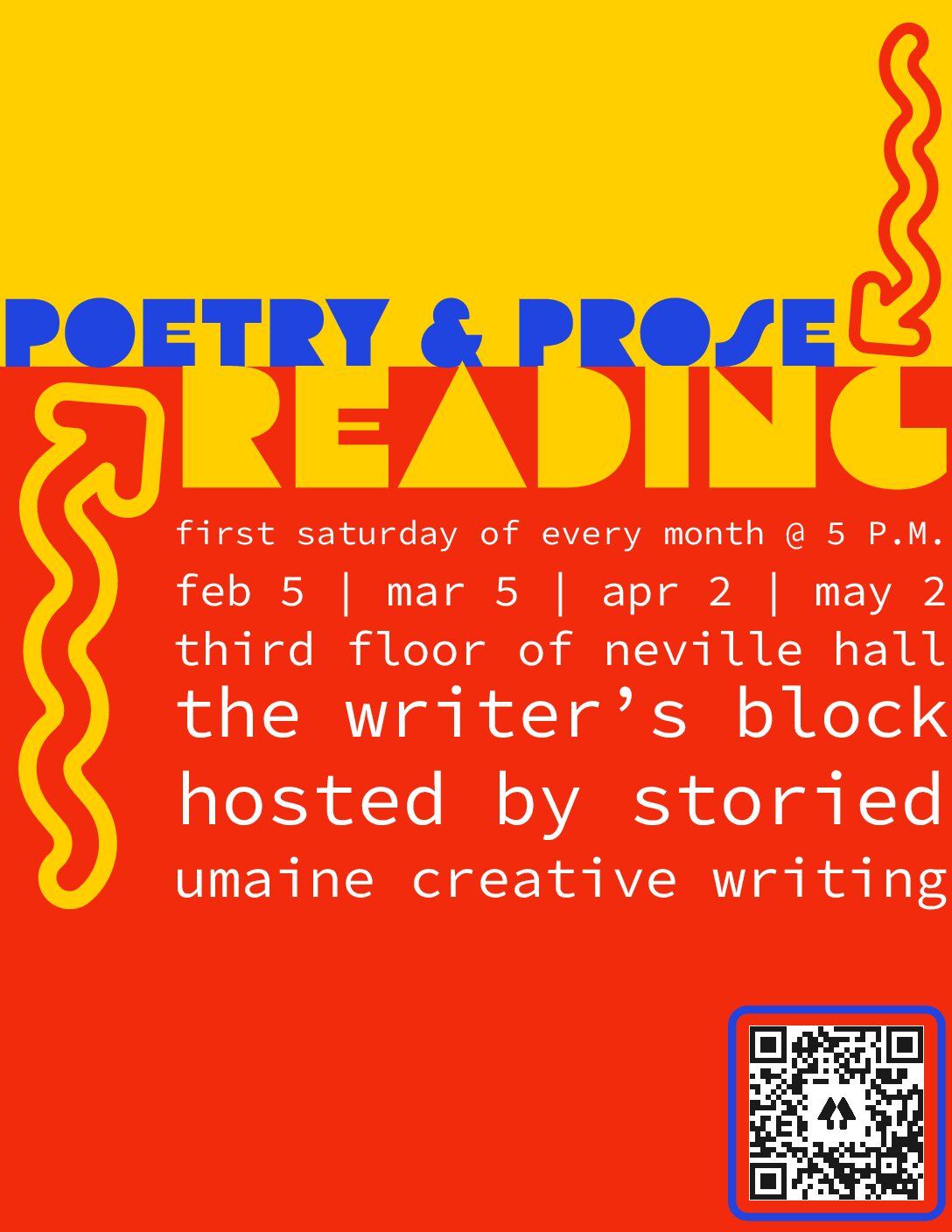 This Week in English | January 24-30, 2022
Creative Writing Club Meetings and Readings in Spring
Storied is the long-standing undergraduate creative writing group organized by UMaine English students. This semester they plan to hold meetings on Tuesday evenings at 6pm in the Writer's Block (NV 302) and readings on the first Saturday of every month, also in the Block. Students are encouraged to reach out to Iris LeCates for more information.
Alum and Part-Time Faculty Memory Tori Hood Publishes Chapbook
Over the break, Bottlecap Press published Death and Darlings, a new chapbook by alum and part-time faculty member Tori Hood. The chapbook includes work that Hood wrote, and was recognized for, while pursuing her BA (Grady Award, 2015) and MA (Millay Prize for Poetry, 2019) in English at UMaine. Here's how Hood describes the project:
Death and Darlings is a revised version of my manuscript by the same name that received honorable mention for the 2019 Millay Prize. In addition, some of the poems in the manuscript won first place in the 2015 Undergraduate Grady's.
Death and Darlings is a collection of poems dedicated to the past—past lives, past selves and evolving memories. These poems explore the way in which we think of loss and how loss lingers past our fingertips even when those we loved have been gone so long that our memories fade. These poems circulate around the loss of a mother, the loss of ourselves, the loss of a happy mind in a questioning world.
Death and Darlings is concerned with the way in which we perceive life and is drenched in the weathered gray robes we hide our bodies under. Throughout these poems there is a sense of obsession and body: what does it mean to embody? How do our bodies hold our hauntings? Some poems deal with the embodiment of living with an eating disorder and what it means to want to leave your skin behind to find new land. Other poems unpack what it means to live with a ghost stuck inside of your skin. Throughout, Death and Darlings wants to disrupt and reorganize your insides.
Last spring Hood won the 2021 Ronald Sukenick Innovative Fiction Contest from FC2. 
Register for Writing Center Account
English majors and minors are encouraged to register an account with UMaine's Writing Center. As Center Director Paige Mitchell writes:
You'll be composing a number of documents that will require revision, analytical inquiry, and research. Our UMaine Writing consultants are professional undergraduate and graduate students, trained in critical reading and writing. They provide free one-on-one consultations in writing, public speaking, research, and document design. You may use the Writing Center for work in this course, your other courses, and for purposes unrelated to UMaine (job applications, resumes, internship applications etc.) 
Visit our About the Consultants page to see our specializations, schedule on our Writing Center website, and/or watch a brief video to register an account.
Dana Wilde Reviews Burt Hatlen
Dana Wilde is a member of the National Book Critics Circle who writes a biweekly literary column for Central Maine. Back on December 17, his installment of "Off Radar" featured Burton Hatlen's Open Form in American Poetry: Essays, recently published by the University of Maine Press. Former students of Burt's are encouraged to write to the English Department for information about steeply discounted copies of the volume that are set aside just for alums. 
Ryan Dippre Named Series Co-Editor 
The WAC Clearinghouse recently launched the Lifespan Writing Research (LWR) book series.  Ryan Dippre, Associate Professor of English and Director of Composition, is the series co-editor, along with Talinn Phillips of Ohio University. Dippre says:  
The series invites single- and multi-author empirical and theoretical studies of writing through the lifespan. We are aiming for a "big tent" in this series, since we really need everything we can get our hands on to understand how such a complex phenomenon as writing impacts the lives of people who use it.  We strongly encourage interested potential authors to email us (lifespanwriting@gmail.com) to discuss ideas.  And we are always happy to discuss ideas!
Dippre earned tenure with promotion to the rank of Associate Professor last spring and enjoyed a productive sabbatical in the fall before resuming his teaching and administrative duties this spring.
Morgan Talty in Publishers Weekly
Morgan Talty's Night of the Living Rez continues to draw praise in advance of its publication by Tin House this summer. Over the break, Talty was named a "writer to watch" by Publishers Weekly. Masie Cochran, Talty's editor at Tin House, remembers her first impression upon reading the manuscript:
"I can't believe this is a debut writer." Thinking through the comparisons to older white writers such as Johnson, Larry Brown, Raymond Carver, and Alice Munro, she says the book stands on the shelf with her "all-time favorite collections," but that "maybe the most important thing to say is that there aren't really comp titles."
"In a Jar," one of the stories from Night of the Living Rez, was published this week in Granta. Talty joined our part-time faculty in the fall and is teaching a section of Introduction to Creative Writing (ENG 205) this spring.
Brian Jansen Reviews Professional Wrestling Title
Brian Jansen, Communication Specialist for the College of Liberal Arts and Sciences and part-time lecturer in the Departments of English and Communication and Journalism, is the author of a review of Eero Laine's Professional Wrestling and the Commercial Stage (Routledge, 2020) in the latest issue of Theatre Survey (vol. 63, no. 1, pp. 122-24). 
---
This Week in English 117 was sent to students, faculty, staff, alumni, and friends of the department on Tuesday, January 25. If you would rather not receive these weekly bulletins, please reply with <unsubscribe> in your subject line. Earlier installments are archived on our website. If you're on Facebook, please consider joining the newly formed English Department Group.
If you would like to support the mission of the English Department, please consider a donation to the Annual Fund through this secure online portal.