This Week in English | Feb. 16 – 25
Mid-February is here with a vengeance, yet we all keep sniffing spring in the air.  In the English Department, lots happening! Please read on for an update:
Our First New Writing Series event of the semester takes place next Thursday at 4:30PM in the FERNALD APPE SPACE, 104 STEWART COMMONS. Katy Kelleher, author of The Ugly History of Beautiful Things: Essays on Desire and Consumption, will be introduced by by Greg Howard.
Please consider sending in some of your original work for the ENG awards:
Each year the English Department recognizes excellence in the genres of poetry, fiction, playwriting, and essay writing through the Grady, Grenfell, Hamlet, and Turner prizes. Guidelines are attached below and queries can be sent to the Director of Creative Writing Greg Howard. We are aiming for a deadline for submission of March 1.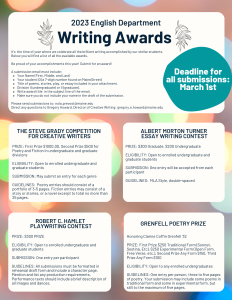 8 students received the Stephen E. King Chair Internship Fellowships!
8 English and WGS majors have been awarded Stephen E. King Chair Internship Fellowships  this semester. Through the generous sponsorship of Stephen E. King Chair in Literature, and direction by Dr. Caroline Bicks, the fellowship offers recipients financial support so that they can pursue an internship related both to their field of study and their career goals. Recipients are all interning with non-profit organizations or small businesses in Maine. Concurrently, recipients are taking ENG 496 under the mentorship of Dr. Kathryn Swacha, a course which offers them academic, faculty, and peer support throughout their internship experience.
The following students received a Stephen E. King Chair Internship Fellowship for spring 2023:
Bell Morais, who is doing communications work at True North Theater Company
Bailey Lewis, who is assisting with the Sexual Health and Wellness Blog and Syringe Exchange at Health Equity Alliance
Patrick Malia, who is creating web content for the Bridge Academy
April Messier, who is doing web design and cataloguing for the Center for Poetry and Poetics
Charlie Reed, who is providing communication and research support for the Mabel Wadsworth Center
Eddie Seeley, who is creating content for the MaineTransNetwork
Mick Swanson, who is writing articles for Portland Monthly Magazine
Ruth Lewandowski, who is creating content and writing grants for VOGM Support Network
Congratulations to these students! Please contact Kathryn Swacha (kathryn.swacha@maine.edu) for more information about the English Department's Internship Program.
The Bangor Makerspace is building a story walk.
Story walks are a way to get people out and about in nature, and reading. Stories will be "Printed" by laser etching pallet wood, which they say, "we are hoping is more sustainable than paper laminate." Pictures are possible, though there are dimension limits due to the print medium. "We are looking for stories we can use in this project, with an emphasis on amateur and student local authors."  If you're interested in submitting work, please contact the Bangor Makerspace at makerspacebangor@gmail.com.
Italian Trans Geographies: Retracing Trans/Cultural Narratives of People and Places
The Department of Modern Languages invites you to join a talk by Dr. Danila Cannamela from Colby College. Dr. Cannamela has published a book on Italian Crepuscular poetry, The Quiet Avant-Garde: Crepuscular Poetry and the Twilight of Modern Humanism (University of Toronto Press, 2019), and is now undertaking novel work in cultural studies related to gender and sexuality, geography, and gastronomy. She will discuss her current project, an edited volume on "Italian Trans Geographies." The talk will be held on Tuesday, February 28, 2023 at 4-5pm in 120 Williams Hall.
Research Scholarship Opportunity: Apply now for the Margaret Chase Smith Public Affairs Scholarship!An academic-year scholarship for $3500 will support an independent research project focused on a public policy topic. Students from all disciplines are encouraged to apply. The deadline for applications is March 27. Visit the MCS Public Affairs website for more information or to apply.
The McGillicuddy Humanities Center Undergraduate Fellows program offers students who will be juniors or seniors in the coming school year the opportunity to work on independent research or creative projects in the humanities under the informal supervision of a UMaine faculty member. Fellows attend meetings, collaborate and build relationships with their cohort, participate in interdisciplinary humanities programs, and act as student representatives of the humanities on campus. They fund up to eight MHC Undergraduate Fellows at a time. Fellows receive $4,000 per semester, or $8,000 in total, with the next application deadline March 17, 2023. Students do not need to be enrolled in a humanities major or minor to hold an MHC Fellowship; the award is open to any junior or senior student who wishes to pursue a project in the humanities, broadly defined. More information and application details are available at the McGillicuddy Humanities Center website or by contacting their humanities specialist, Brian Jansen, at brian.jansen@maine.edu.
Wayward Literary Magazine has published their first volume of fiction, prose, poetry and everything in between. Co-editors and alumnae Nola Prevost and Shania Soler are excited to publish work from over 20 writers from all around the world. The theme for this first issue is "Voice." Submissions are now open for Issue 2, with the theme of "You." Please visit the Wayward Literature website for submission guidelines and more information. Deadline to submit is March 6, 2023.
UMaine's Wabanaki Center and  Aquaculture Research Institute (ARI) are pleased to announce a new USDA Research And Extension Experience for Undergraduates (REEU), in collaboration with Wabanaki Youth in Science.
"This unique fellowship offers undergraduate students from around the nation an opportunity to combine traditional ecological knowledge from indigenous science with STEM concepts from western science to solve real-world problems in aquaculture at the University of Maine's world class aquaculture facilities. Mentorship will be provided by interdisciplinary faculty and traditional knowledge keepers of the Wabanaki tribes. Through this fellowship, students will have an array of research foci from which to choose.  They will co-design projects using concepts learned from their mentors as well as a seminar, field trips, and workshops in traditional ecological knowledge, applied aquaculture science, science communications, and STEM concepts. Students will live at the University of Maine in Orono for 10 weeks and will participate in a virtual seminar before they arrive. We invite students and faculty to learn more about the Aquaculture Experiential Opportunities for Undergraduate Students (AquEOUS) Fellowship and apply by March 15th." If you have any questions or need additional information, please contact them at ari@maine.edu.
Campus safety app:
Because we should always prioritize our safety on campus, we want to share some information about the Black Bear Safe App, an app created by and for the UMaine community to help keep ourselves and each other safe. Through this app, the UMaine Police Department offers direct safety support such as a digital escort to your car at night, a "panic button," and more crime prevention resources. You can find more information and download it for free via the UMPD website.