Sarah Harlan-Haughey
Associate Professor of English
309 Neville Hall
Office Telephone: 207.581.3816
Email: sarah.harlanhaughey@maine.edu
Office Hours – Spring 2020
Tuesdays 3:30-4:30pm or by appointment
RESEARCH AND TEACHING INTERESTS:
Medieval literature, Literature and the Environment, Folklore and Oral Traditional Studies
COURSES TAUGHT
Graduate Courses:
Medieval Narrative
Reading Nature in Medieval England
Undergraduate Courses:
Literature and the Environment
Medieval Literature
Arthurian Literature
Shakespeare
Chaucer and Medieval Literature
Foundations of Literary Analysis
Honors Civilizations 111-212
Texts and Contexts: The Saga
Robin Hood and other Outlaws
Dragonslayers
Classes Taught at other institutions:
Gods, Heroes and Monsters: Medieval Celtic Literature
Beyond the Round Table: Arthurian Literature, Medieval and Beyond
Viking Sagas: The Old Norse Epic
Under the Greenwood Tree: The Robin Hood Legend, from Medieval to Modern
Midsummer Night's Weirdness: Seasonal Literature in the Middle Ages and Renaissance
The Personal Essay
Medieval Romance: Voyages to the Otherworld
Body, Mind, Health: Perspectives for Future Medical Professionals
PUBLICATIONS
Books: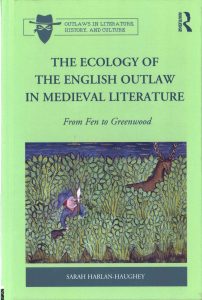 The Ecology of the English Outlaw in Medieval Literature. Outlaws in Literature, History and Culture Series. Abingdon: Routledge, 2016.
Articles and Book Chapters:
"The Circle, the Maze, and the Echo: Sublunary Recurrence and Performance in Chaucer's "Legend of Ariadne" in The Chaucer Review. Forthcoming Spring 2017.
"Forest Law through the looking glass: distortions of the Forest Charter in the outlaw fiction of late medieval England." In After Runnymede: Revising, Reissuing, and Reinterpreting Magna Carta in the Middle Ages, a Bill of Rights Journal special edition, Volume 25 (2016-2017), Issue 2.
"Up the Hill Backwards: Meeting the Challenges of Creating a Humanities Lab" in Continuity and Innovation in Honors College Curricula, eds. Robert Glover and Katherine O'Flaherty. Rowman and Littlefield, 2016.
"A Landscape of Conflict: Weather Magic and Colonialism in Færeyinga Saga and Sigmunds Kvæði Eldra." New North-American Studies of Medieval Iceland, Islandica 58, Cornell UP, 2016, 345-387.
Harlan-Haughey, Cunningham, Estrup and Lees. "Blogging to Enhance Honors Students' Writing." JNCH 17.1 (2016): 271-288.
"Against Teleology in an Honors Great Books Curriculum." HIP 10 (2014): 95-107.
"The Genesis of an Honors Faculty: Collective Reflections on a Process of Change." Honors in Practice 2012, Vol. 8, 193-201.
"The Burning Sun: Space and Knowledge in Exodus." Anglo-Saxon Secular Learning in the Vernacular, Amsterdamer Beiträge zur älteren Germanistik, Vol 69, 2012, 97-117.
"On The Whale-Way," The Catch: Vol. 2: Iss. 1 (2014), Article 11.
"Down with Dante and Chaucer? Navigating a Great Books curriculum as a medievalist." In Ballad of the Lone Medievalist, edited by Kisha F. Tracy; Published by Punctum Books. Forthcoming 2017.
"Uncanny Cetology in Medieval Islandic Literature and the Scandinavian Ballad tradition." Will appear in a festschrift in honor of Larry Syndergaard edited by Richard Firth Green and Sandra Staubhaar. Forthcoming Spring 2017.
"Blood on the Table: The Subversion of Fellowship in the Gest of Robin Hood." Will appear in an edited volume in the Outlaws in Literature and History Series, edited by Mikee Deloney and Perry Harrison. New Readings of Medieval Robin Hood Rhymes. Routledge. Forthcoming in 2017.