Sarah Harlan-Haughey
Associate Professor of English
309 Neville Hall
Office Telephone: 207.581.3822
Email: sarah.harlanhaughey@maine.edu
Office Hours – by appointment
RESEARCH AND TEACHING INTERESTS:
I am a medievalist with an interest in literature and the environment. I write about outlaws, landscape, and memory. After receiving my PhD in Medieval Studies from Cornell University, I have been teaching graduates and undergraduates at UMaine. Teaching and research interests include:
Middle English literature, Old English literature, Medieval Scandinavian literature, Literature and the Environment/Ecocriticism, History of the English Language, Medieval/Early Modern Performance Studies, North Atlantic Multiculturalism, Folklore/ Oral Tradition, Interdisciplinary Humanities, Medieval continental Literature, Early Modern Literature
COURSES TAUGHT:
Graduate Courses:
Chaucer's fictions of Gender
Medieval Narrative
Reading Nature in Medieval England
Undergraduate Courses:
Middle English Romance
Ecocriticism
Medieval Monster and Marvels
Literature and the Environment
Medieval Literature
Arthurian Literature
Dragonslayers from Beowulf to Wagner, Tolkien and Beyond
Shakespeare
Chaucer and Medieval Literature
Foundations of Literary Analysis
Honors Civilizations 111-212
Texts and Contexts: The Saga
Robin Hood and other Outlaws
The Nature of Story
Foundations of Literary Analysis
CLASSES TAUGHT AT OTHER INSTITUTIONS:
Gods, Heroes and Monsters: Medieval Celtic Literature
Beyond the Round Table: Arthurian Literature, Medieval and Beyond
Viking Sagas: The Old Norse Epic
Under the Greenwood Tree: The Robin Hood Legend, from Medieval to Modern
Midsummer Night's Weirdness: Seasonal Literature in the Middle Ages and Renaissance
The Personal Essay
Medieval Romance: Voyages to the Otherworld
Body, Mind, Health: Perspectives for Future Medical Professionals
PUBLICATIONS
Books: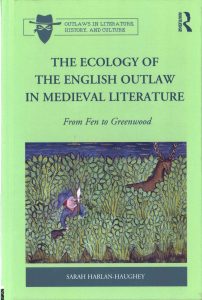 The Ecology of the English Outlaw in Medieval Literature. Outlaws in Literature, History and Culture Series. Abingdon: Routledge, 2016. https://doi.org/10.4324/9781315615882
Articles and Book Chapters:
"The Dragon of Love: Chaucer's Jason and the Cycle of Consumption in the Legend of Good Women" will appear in The Chaucer Review 57.1 (January 2022).
"The Poached Feast and the Kingly Blow: The question of courtesy in late medieval king-in-disguise narratives" Co-written with Melissa Winders. In Food and Feast in Premodern Outlaw Tales, edited by Melissa Elmes and Kristin Bouviard-Abbo. Abingson: Routledge, 2021, 169-198. 
"Uncanny Cetology in the Sagas and Later West-Scandinavian Balladry." Ballads of the North: Medieval to Modern (Essays in Memory of Larry Syndergaard) Ed. Sandra Straubhaar and Richard Firth Green. Kalamazoo: Medieval Institute Publications, 2019, 73-90. https://doi.org/10.1515/9783110661934
"The Circle, the Maze, and the Echo: Sublunary Recurrence and Performance in Chaucer's "Legend of Ariadne" in The Chaucer Review. vol. 52 no. 3, 2017, pp. 341-360. www.jstor.org/stable/10.5325/chaucerrev.52.3.0341
"The Broken Bird: Note on the unsolved mystery of the loon's name." Spire, the Maine Journal of Conservation and Sustainability 1, May 4 2017, online.
"Forest Law through the looking glass: distortions of the Forest Charter in the outlaw fiction of late medieval England." William and Mary Bill of Rights Journal. 549, 2016, pp. 549- 589. https://scholarship.law.wm.edu/wmborj/vol25/iss2/8
"A Landscape of Conflict: Weather Magic and Colonialism in Færeyinga Saga and Sigmunds Kvæði Eldra." New North-American Studies of Medieval Iceland, Islandica 58, Cornell UP, 2016, 345-387.  https://www.cornellpress.cornell.edu/book/9780935995237/new-norse-studies/#bookTabs=1
"The Burning Sun: Space and Knowledge in Exodus." Anglo-Saxon Secular Learning in the Vernacular, Amsterdamer Beiträge zur älteren Germanistik, Vol 69, 2012, 97-117. file:///C:/Users/sarah/Downloads/_journals_abag_69_1_article-p97_5-preview.pdf
Reviews:
I am on the Board of Reviewers for the Year's Work in Old English Studies. As a reader in the section "I. General and Miscellaneous", I review approximately 10-15 books and articles a year.
In The Medieval Review 16.09.11, a review of Borges, Jorge Luis, ed. and Trans. Toswell, Ancient Germanic Literatures. Old English Publications: Studies and Criticism, 1. Tempe: ACMRS, 2014.
In The Medieval Review 15.02.02, a review of Bintley, Michael D. J., and Michael G. Shapland. Trees and Timber in the Anglo-Saxon World. Medieval History and Archaeology. Oxford: OUP, 2013.
In The Medieval Review 14.04.10, a review of Fletcher, Alan J. The Presence of Medieval English Literature: Studies at the Interface of History, Author, and Text in a Selection of Middle English Literary Landmarks. Cursor Mundi, 14.  Turnhout: Brepols, 2012.
Forthcoming in The Medieval Review, a review of Egeler, Matthias (Ed.). Landscape and Myth in North- Western Europe. Turnhout: Brepols Publishers, 2019.
Pedagogical studies:
"Down with Dante and Chaucer? Navigating a Great Books curriculum as a medievalist." Ballad of the Lone Medievalist, ed. Kisha F. Tracy. Brooklyn: Punctum, 2018.
"Up the Hill Backwards: Meeting the Challenges of Creating a Humanities Lab" in Continuity and Innovation in Honors College Curricula, eds. Robert Glover and Katherine O'Flaherty. Lanham: Rowman and Littlefield, 2016.
Harlan-Haughey, Cunningham, Estrup and Lees. "Blogging to Enhance Honors Students' Writing." JNCH 17.1 (2016): 271-288.
"Against Teleology in an Honors Great Books Curriculum." HIP 10 (2014): 95-107.
"The Genesis of an Honors Faculty: Collective Reflections on a Process of Change." Honors in Practice 2012, Vol. 8, 193-201.
Forthcoming publications:
"Blood on the Table: The Subversion of Fellowship in the Gest of Robin Hood." Will appear in New Readings of Medieval Robin Hood Rhymes, an edited volume in the Outlaws in Literature and History Series, edited by Mikee Deloney and Perry Harrison. Routledge. Forthcoming 2020.
"Living on Borrowed Time: the temporal aesthetic of the Outlaw Sagas." Will appear in Time, Space and Narrative in the Icelandic Sagas, edited by Emily Lethbridge. Brepols. Forthcoming 2020.
"Charms, Changelings, and Chatter: sonic magic in the Secunda Pastorum." Will appear in The Language of Magic, edited by Eleanora Cianci, forthcoming 2021.
"Alcathoe" entry for the forthcoming Chaucer Encyclopedia, ed. Richard Newhauser et al.
WORKS IN PROGRESS:
Books:
The Outlaw Code: Late Medieval Outlaws and Virtual Reality. Book project in progress.
Layamon's Necropoetics: Death, Landscape, and Poetry in the Brut. Book project in progress.
Articles:
"Spare not the Venison: Machismo and Conspicuous Consumption in the Late Medieval Rymes of Robin Hood"
"Haliurunnas, Helrunan, and Grendel's mother: on the unbearable loneliness of Trollwomen" Cowritten with Thomas D. Hill
Selected (relatively recent) presentations:
"The Lady and the Tramps: The Collision of Homosocial Bandit Culture with the Outlaw's Wife". At "Ballads and Bandits"/ Irish Conference of Folklore & Ethnology", in Dublin, Ireland, December 10-11 2019.
"Translating brutality: Corineus And Liver-Eatin' Johnson". At the Montana Medievalist Roundup, in Missoula, MT, August 2-4, 2019.
"Charms, changelings, and chatter— sonic magic in the Second Shepherds Play", At "The Language of Magic," at the 12th international interdisciplinary conference on Charms, Charmers, & Charming, in Pescara, Italy, May 22-24, 2019
"Monty Python's Medievalism." A Pre-show (Spamalot) talk at the Collins Center for the McGillicuddy Humanities Center, February 6, 2019, Orono, ME.
"Frontier Storytelling in two saga Traditions." At the Montana Medievalist Roundup , July 27-28, 2017, in Missoula, MT
"Outlaw Temporalities." At the 12th Annual Fiske Conference on Medieval Icelandic Studies, June 2-3, 2017, in Ithaca, NY
"Living on Borrowed Time: the temporal aesthetic of the Outlaw Sagas." At Tími, rými og frásögn í Íslendingasögunum, March 2017, in Reykjavík, Iceland
"Conspicuous Consumption, Masculinity, and Nihilism in the Outlaw Feasts of the Late Medieval Greenwood." At the Leeds International Medieval Congress: "Ecocritical outlaws in Medieval English Literature," July 4-7, 2016, in Leeds, UK
"Spare not the Venison: Machismo and Conspicuous Consumption in the Late Medieval Rymes of Robin Hood" Sewanee Medieval Colloquium: "Medieval Natures," April 1-2, 2016, in Sewanee, TN
"Forest Law Through the Looking Glass," At Bill of Rights Journal Symposium: "After Runnymede: Revising, Reissuing, and Reinterpreting," March 18, 2016, in Williamsburg, VA