This Week in English | February 26 – March 4, 2018
Professor Richard Brucher Pre-Performance Lecture on Friday
The lecture will be followed by a 
7pm
 screening of the acclaimed 
National Theatre production
 starring Daniel Radcliffe (best known for his role as Harry Potter) and Joshua McGuire. Info on tickets 
here
. Some free tickets are available by request (reply to this e-mail).
Preview of Fiction Reading by Eugene Lim on March 8
The first New Writing Series event of the spring semester takes place a week from Thursday on March 8, at 4:30 in Stewart Commons 104. It will feature fiction writer Eugene Lim, who is the author of the novels Fog & Car (Ellipsis Press, 2008), The Strangers (Black Square Editions, 2013) and Dear Cyborgs (FSG Originals, 2017). His writings have appeared in Dazed, Fence, Little Star, The Denver Quarterly, The Brooklyn Rail, Jacket2, Gigantic, Your Impossible Voice, The Coming Envelope, Everyday Genius, Vestiges and elsewhere. Pessimist of the intellect by night; by day, he's house librarian at the Charles Xavier School for the Greatly Responsibled. He runs Ellipsis Press, and lives in Jackson Heights, NY, with Joanna and Felix.
In its starred review of Dear Cyborgs, Publishers Weekly wrote:
Two radically different story lines—one involving a short-lived friendship between two Asian-American boys in the Midwest, the other an ongoing philosophical debate amongst a team of superheroes—are cleverly tied together in this short, sly, unorthodox novel… The core relationships, whether they're between estranged childhood friends or opinionated superhumans, are real and profoundly moving.
Stephen E. King Chair Events on March 6 and 7
Professor Caroline Bicks writes with news of two related events:
Please join me on Wednesday, March 7th at 7pm in Minsky Recital Hall to welcome our first speaker in the Stephen E. King Chair lecture series, now in its inaugural year.
Professor James Smith of Boston College will be giving a public lecture: "Ireland's Magdalene Laundries, Academic Advocacy and Restorative Justice" (flyer attached).
The Magdalene laundries were workhouses in which many Irish women and girls were effectively imprisoned because they were perceived to be a threat to the moral fiber of society. Beginning in the 18th century, and operated by Catholic Church religious orders, the state utilized these institutions until the last Laundry closed in1996. In 1993, a public scandal was triggered when the remains of 155 inmates, buried in unmarked graves on the property, were exhumed, cremated, and buried elsewhere in a mass grave. Smith's work with archival materials and survivors is, in Irish writer Colum McCann's words, a "brilliant, art-driven examination of a story, or history, that needs to be told over and over and over again, lest it be forgotten or allowed to seep into the ambient noise."
Smith is a member of Justice for Magdalenes Research (JFMR), the advocacy group that brought these institutions to the attention of the UN Committee Against Torture (UNCAT) in Geneva.
Prior to Professor Smith's visit, Professor Bicks and Clair Moriarty of Orono High School will lead a discussion about the Magdalene Laundries on Tuesday, March 6, from 6 to 7:30pm in Room 65A of the high school (flyer attached).
Routine Department Business
The Analytical, Professional, and Technical Writing (APTW) committee is on temporary hiatus while the hiring process for a Lecturer in Academic Writing proceeds. The Undergraduate Studies Committee met on Wednesday, February 21, to discuss 100- and 200-level literature courses for non-majors (minutes attached). The Graduate Studies Committee meets this Wednesday, February 28, at 3pm in the Hatlen Room to continue discussing admissions. And the full department will meet on Thursday, March 1, at 3pm in the Hatlen Room. Full time faculty are expected to attend; all members of the department are welcome.
Graduation Reminders for MA Candidates
Passing along this message from the Graduate School, which will be of special interest to second-year students in the Master's program:
Graduation documents and deadlines can be found on the Graduate School website.
To graduate, all students (degree and certificate) must:
Students in a thesis program are advised to:
Thank you for your attention to this matter and please do not hesitate to contact the Graduate School with any questions.
Emily Dickinson's Undisciplined Dad
The Chronicle of Higher Education's "daily briefing" team draws attention today to a recent post on The Consecrated Eminence, a blog maintained by the Archives and Special Collections at Amherst College.
Edward Dickinson, class of 1823, who would go on to be a respected lawyer, treasurer of the college and the father of Emily Dickinson, was involved in an incident in November of 1821 with an oyster supper, cherry rum, gin and a "great disturbance in and about the Institution."
The Charges: "—that after supper they had cherry rum and gin—that they drank to excess—that about 12 0'clock they all of them came to the Institution—that they there behaved in a very indecent and riotous manner, and made great disturbance in and about the Institution, to the extreme annoyance of those residing in it til one o'clock or later."
Wild nights, indeed.
Have a great week, everyone!
Steve Evans
English Department Chair
This Week in English 19 circulated to faculty, students, and friends of the department on Monday, February 26, 2018. If you would rather not receive these weekly bulletins, please reply with <unsubscribe> in your subject line. Earlier installments are archived on our website.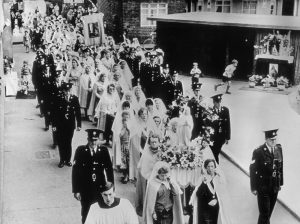 07_TWIE_19_Magdalene-Laundries-Discussion
07_TWIE_19_UGS-Minutes_February-2018