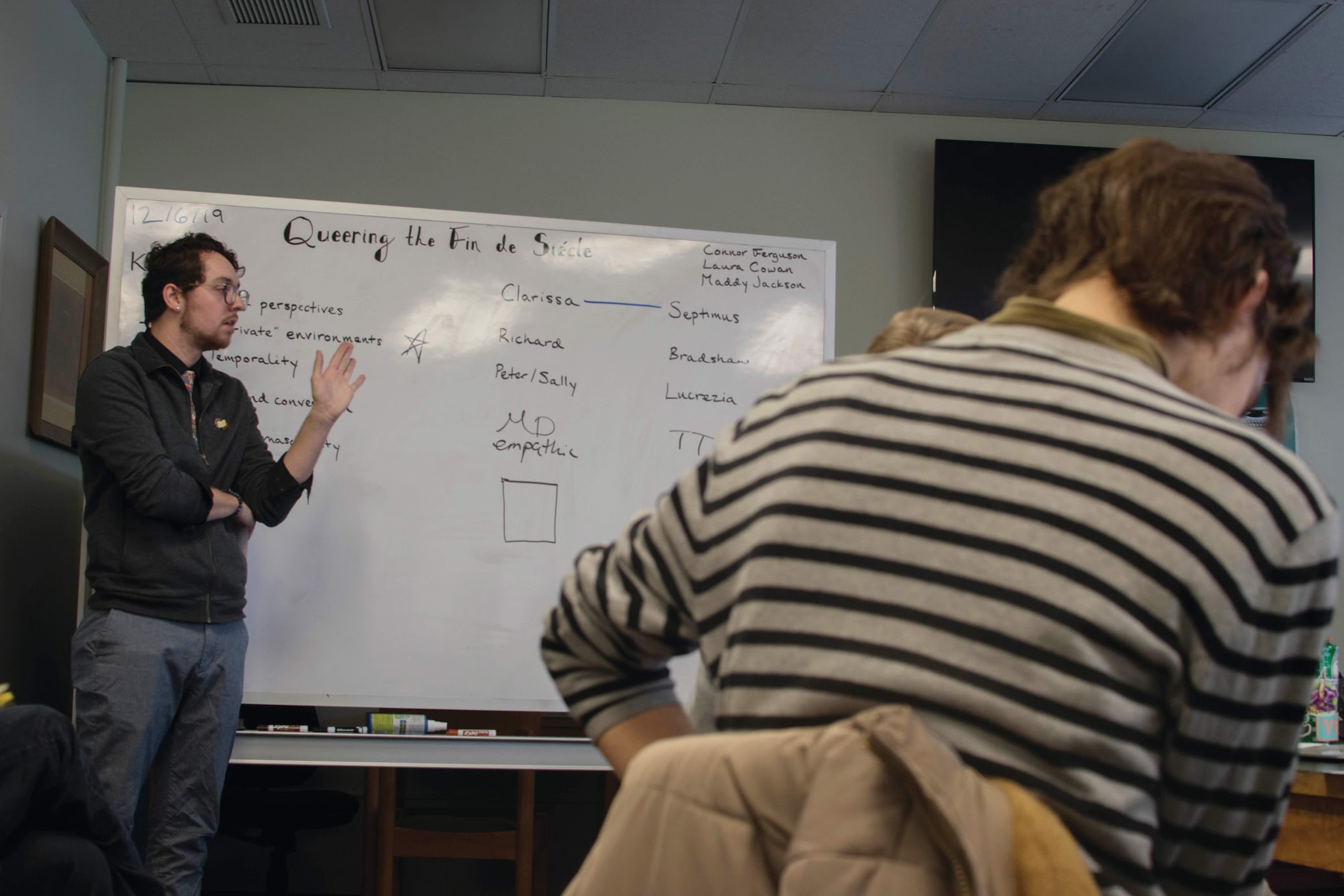 This Week in English | December 9 – 15, 2019
Holiday Open House Tuesday Afternoon
The English Department will hold an open house for majors, minors, Master's candidates, faculty, alumni, and friends tomorrow afternoon (December 10) starting at 12:30 and wrapping up in time for the celebration of Emily Dickinson's birthday announced below. We'll have light refreshments on hand and welcome potluck contributions. The main festivities will be in the Wicks Room, but recent improvements to the former Writers' Studio in Neville 302 will be on display next door. Please feel free to drop by and take a break from the rigors of semester's end in good company and good cheer.
Connor Ferguson Presentation Last Friday
The Writing Center hosted more than two dozen students and faculty members this past Friday for English major Connor Ferguson's presentation of his research project on "Queering the Fin de Siècle" as a McGillicuddy Humanities Center fellow. Writing about the event for the Maine Campus, Noah Loveless (an English and Philosophy double major and current MHC fellow) reports:
Ferguson's work surrounded the texts of Virginia Woolf including "Mrs. Dalloway," "To The Lighthouse" and "Orlando," as well as the poems of Wilfred Owen and how queer language and themes occurred in their work. But Ferguson is also concerned with how queer identity can become more included in curricula to make learning better for students. For Ferguson, letting queer identity be discussed is essential for allowing more students to have texts and works to relate with.
Ferguson was introduced by his faculty mentor, Laura Cowan, and joined by fellow student (and Writing Center tutor) Maddy Jackson, who offered remarks on the character of Septimus in Mrs. Dalloway. A lively conversation followed the formal presentation. As Ferguson told Loveless:
"Even just the slight indication that these authors might be queer opened up so many academic doors for me," Ferguson said. "It pushed me to do this research; it inspired me to apply for this McGillicuddy Fellowship. Even just acknowledging this identity can open a lot of doors for students who don't feel seen because they identify in the queer community. Or even educators who want to give a broader scope and understanding of what, for example, modernist literature is actually like."
Celebrating Dickinson's Birthday 
The 13th Annual Emily Dickinson Birthday Reading will be held at 4:30 pm on Tuesday, December 10 (her actual birthday!) in the University Bookstore. For more information and/or to volunteer to read, please contact event organizer Kathleen Ellis.
#
This Week in English 72 was sent to faculty, students, and friends of the department on Monday, December 9, 2019. If you would rather not receive these weekly bulletins, please reply with <unsubscribe> in your subject line. Earlier installments are archived on our website.
If you would like to support the mission of the English Department, please consider a donation to the Annual Fund through this secure online portal.