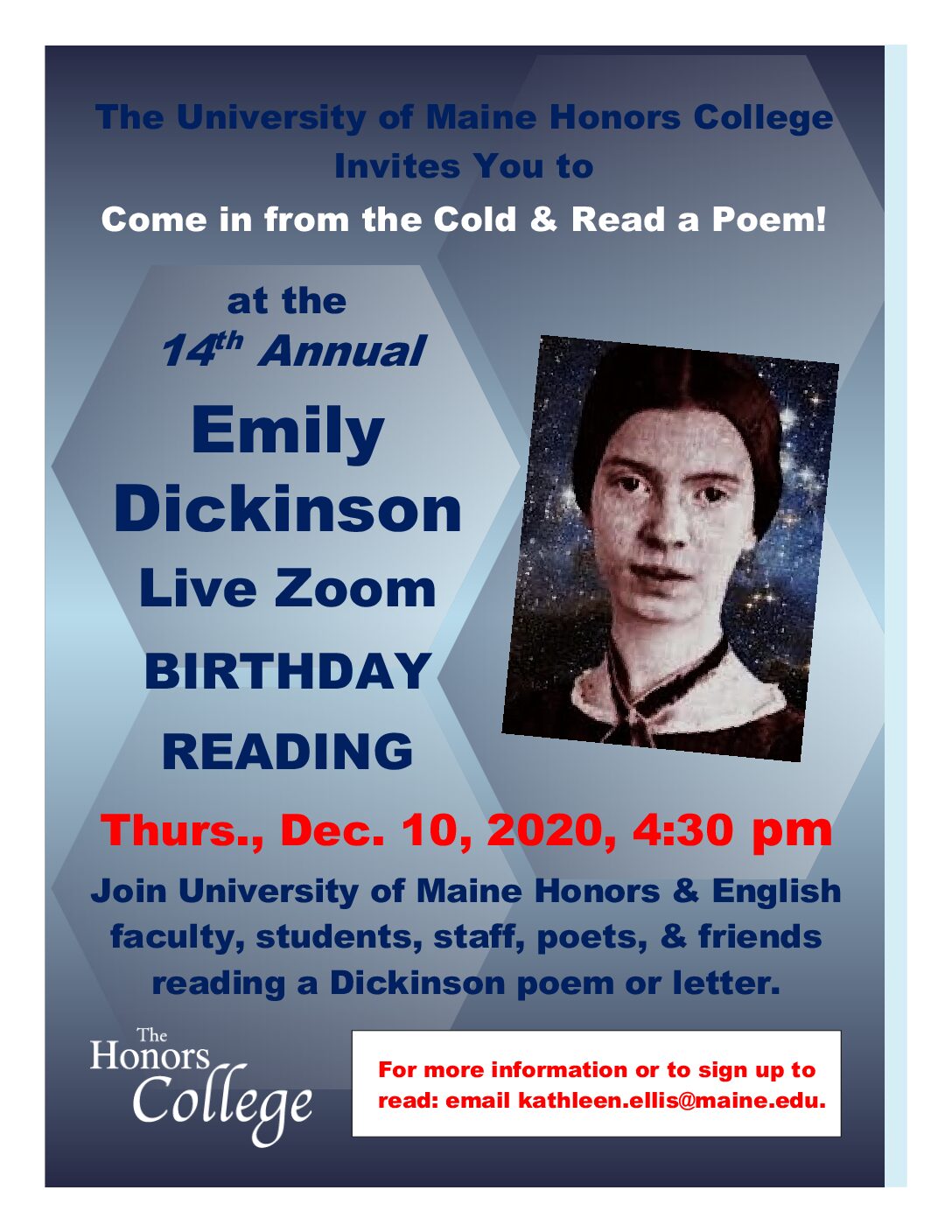 This Week in English | November 23-29, 2020
As we approach the Thanksgiving holiday, I would like to express our gratitude for your interest in and commitment to the English Department, and to wish for everyone an extra helping of fortitude as we face, individually and as a community, challenges unlike any we could have imagined a year ago. If you have news you would like to share on the other side of the break, please be in touch. Until then, best wishes for a safe and sustaining holiday.
New Issue of Canadian Literary Journal
Hollie Adams, who joined the UMaine Creative Writing faculty last fall, serves as fiction editor for the Windsor Review, a new issue of which was published earlier this fall. Established in 1965, the Windsor Review is among Canada's oldest active literary journals, having featured the work of writers like Marshall McLuhan, Joyce Carol Oates, and W.P. Kinsella. 
Adams will also serve this year, along with Greg Howard, as faculty advisor to the UMaine undergraduate literary journal The Open Field. This year's editors are Nola Prevost (fiction) and Lily Comeau-Waite (poetry). Look for more information about submitting work for consideration on the other side of the Thanksgiving Holiday.
MA Alumnus Mark Tabone Wins Teaching Award
The University of Tennessee Daily Beacon recently profiled MA alumnus Mark Tabone on the occasion of his receiving a competitive teaching award. Tabone is a lecturer in the Department of English, where he teaches courses in academic and business writing as well as American and African American literature. Among the hallmarks of his teaching is his ability to tie literature to current events and tensions, helping his students understand and navigate complex issues. When asked what his teaching award means to him, Tabone replied:
It means a great deal. I have devoted my life and career to higher education. I put so much energy and so much of myself into my teaching, and it's heartwarming to hear from others that it is working.
While at UMaine, Tabone was mentored by Professors Carla Billitteri and Naomi Jacobs.
Celebrate Emily Dickinson on December 10
The UMaine community, led by Kathleen Ellis, will come together on Zoom to celebrate the life and poetry of Emily Dickinson on her birthday, December 10. If you would like to read a poem or letter by Dickinson as part of the program, please let Kathleen hear from you.
Book Group Organized by Maine Peace Action Committee
Back in early October, the Maine Peace Action Committee organized a book group that meets on Tuesdays from 6-7pm to discuss Indigenous Environment Justice, a collection of essays edited by Karen Jarratt-Snider and Marianne O. Nielsen. If you're interested in joining the group, email MPAC for the Zoom link.
Next English Department Drop By on December 4
The first three drop bys have been delightful—and it's been especially nice to be able to introduce alums from all over the country and at various stages of their careers to first semester English majors! We'll next meet via Zoom on Friday, December 4. All faculty, friends, alums, and students who are inclined to join us will be warmly welcomed, and kids and pets and partners, too! 
Covid Reminder
If you or people you know in the UMaine community have concerns about COVID-19 symptoms, close contact or a positive test, call the COVID-19 info line at 207-581-2681 or fill out the online self-reporting form or email umaine.alerts@maine.edu.
This Week in English 86 was sent to faculty, students, and friends of the department on Monday, November 23, 2020. If you would rather not receive these weekly bulletins, please reply with <unsubscribe> in your subject line. Earlier installments are archived on our website.
If you would like to support the mission of the English Department, please consider a donation to the Annual Fund through this secure online portal.