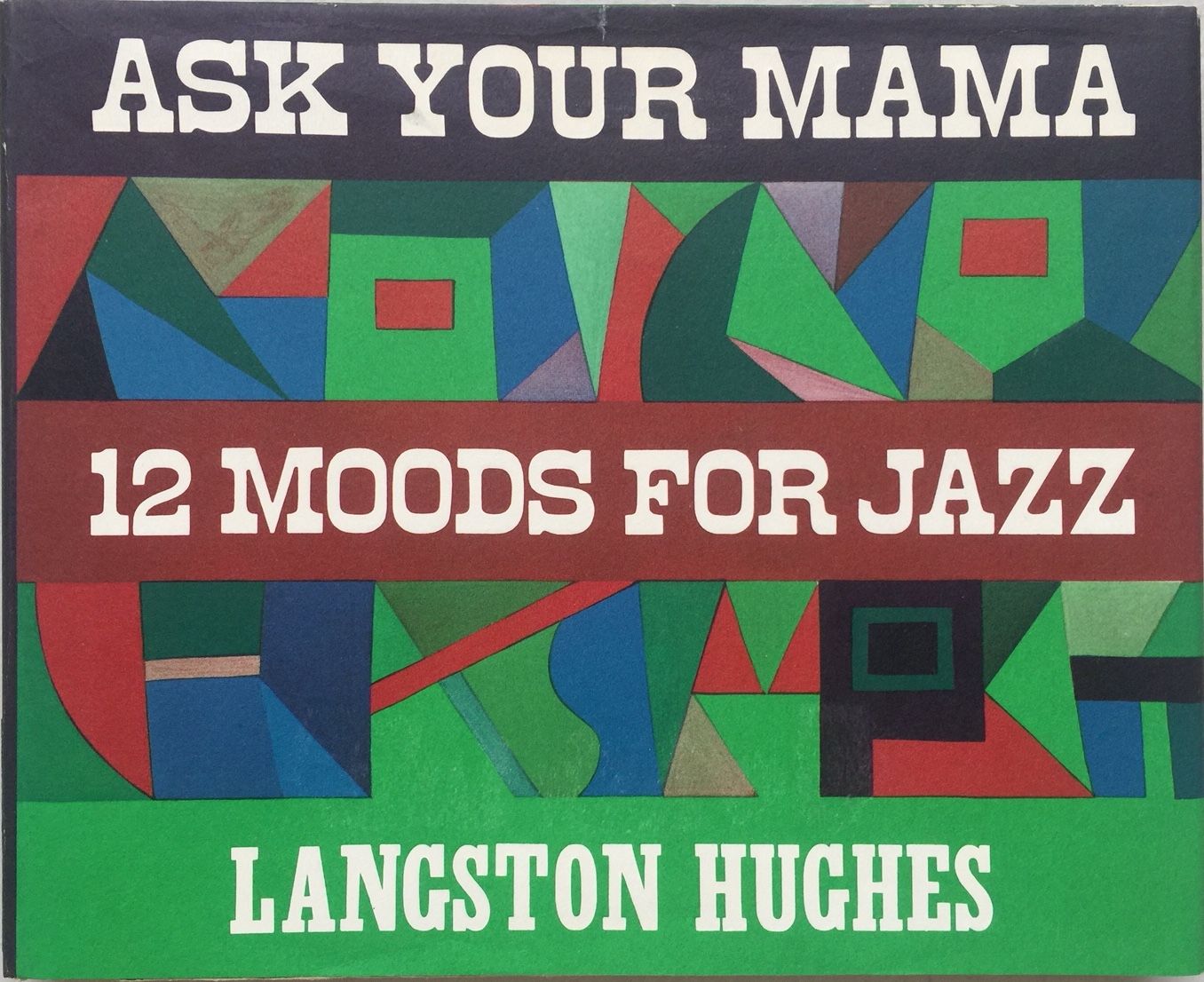 This Week in English | March 1-7, 2021
Langston Hughes Project Tonight
Steve Evans will be leading a discussion with Ron McCurdy about Ask Your Mama: Twelve Moods for Jazz this evening starting at 7:30pm via Zoom (request link here). Come learn about Langston Hughes's 1961 masterpiece and McCurdy's long engagement with, visionary interpretation of, and lively improvisation around it. The poem is, among other things, an enduring testament to the era of global decolonization and national desegregation, the utopian possibilities of which were in constant tension with the persistent institutions and practices of white supremacy. Hughes handles the contradictions with conviction, innovation, integrity—and humor. And McCurdy guides us through the "moods" of the piece with unmatched precision and insight. Though intended as a post-performance Q&A, the session could equally well serve as an introduction to Hughes and McCurdy, so consider yourself invited even if you haven't yet caught the performance.
Lukens Production of Indian Radio Days 
Margo Lukens directed a Zoom production of LeAnne Howe and Roxy Gordon's play "Indian Radio Days" for Wabanaki REACH during the summer of 2020, with a cast of Wabanaki community actors. The play is now available for viewing on YouTube until March 7.
Lukens will be hosting a talkback with the actors on Thursday, March 4 at 4:00pm with the actors and Wabanaki REACH organizers.  Here's the link to register.
Departmental Writing Prizes
Each spring the English Department seeks to recognize student achievement in the genres of poetry (Grenfell Awards), playwriting (Hamlet Prize), and the essay (Turner Prize). Ellen Manzo has helpfully put together a web alternative to the flyers that usually adorn the walls of Neville Hall in March, which you can find here. 
Invitation to Join Creative Writing Club
English major (and engineer) Camerin Seigars asked us to include this invitation in this week's bulletin, which we're delighted to do: 
Welcome to Storied, UMaine's creative writing club. We are still gathering new members and working on defining the details of the club; however, as club President my hope is to foster a place where writers can create, share, revise and grow with one another.
Our first meeting will be this coming Thursday (March 4th) at 5:30 pm via zoom (email here for link). I will keep the meeting open until around 7:00 pm to allow individuals to come and go as they are able. This first meeting will be focused on the following agenda.
Welcome and introductions (starting at 5:30 pm)

Discussion of club format and goals

Selection of a bi-weekly meeting time options 

Selection of club officers  (will happen at approx. 6:30 pm so all interested in leadership roles should be present, if you are interested and cannot make it please email me in advance of the Thursday meeting)
I will also hold a meeting on Saturday (March 6th) at 3:00 pm via zoom for those who may not be able to attend Thursday's meeting. All club members are welcome to attend both meetings, if time permits some individuals could share what writing they are working on (if they are comfortable and want to). 
I am excited to foster a place for UMaine writers and look forward to meeting all of you. I think this will be a valuable and fun club. Feel free to share with any friends/individuals who may be interested in joining. If you have any questions, comments or just want to touch base about the club you are welcome to reach out.
Michael Swacha on Virginia Woolf
Michael Swacha provides this welcome report of guest lecturing in Laura Cowan's ENG 558 seminar on Virginia Woolf and Rebecca West last Wednesday. 
We had a great discussion on topics ranging from the intersection of science and literary modernism to the possibility of stopping time in diachronic genres such as the novel, and from models of relationality in Virginia Woolf's work to the current urgency of modernist scholarship. It was an enjoyable afternoon of digging into the heart of what many of us do, and of considering such work's relevance in today's political/social climate.
Screenwriting Workshop Opportunity
The Blue Hill Literary Arts organization Word is hosting a two-day workshop on screenwriting with Jim Picariello on March 12 & 14, 2021.
Picariello will discuss what makes screenwriting so different from other types of narrative prose and will introduce the concepts and mechanics of screenwriting and script submission. During the daylong class break, participants will be asked to read a screenplay (with the option of watching the script's movie) for discussion in the following class. They will leave the second class with a list of resources for further study.
Registration ordinarily costs $45, but UMaine undergraduates are encouraged to contact the Stephen E. King Chair in Literature, Caroline Bicks, who has graciously offered to cover fees for interested students. 
English Department Drop-By on Friday
The English Department hosts virtual drop-bys most Friday afternoons to talk informally about matters of mutual interest and to compare notes on the week that was. A nice mix of majors, minors, graduate students, professors, and alumni have joined the conversation from one week to the next and created a warm and generous online literary salon. We'll gather again this Friday at 4pm and keep the space open until about 5:30 (request Zoom link here). Feel free to drop by for just a few minutes or to stay a spell: we welcome your good company!
Mark Your Calendars for Boatin Play
The Daughter of the Ruler of the Seas and Tides, a new full-length play by Arthur Boatin, will have a Zoom reading Thursday, March 11, at 7:30pm, accessible through this site. The play is set in Downeast Maine.
Boatin taught in the University of Maine English Department between 1986 and 1991. He is the husband of professor emerita and fiction-writer Elaine Ford, who died in 2017.
Covid Reminder
If you or people you know in the UMaine community have concerns about COVID-19 symptoms, close contact, or a positive test, call the COVID-19 info line at 207-581-2681 or fill out the online self-reporting form or email umaine.alerts@maine.edu.
---
This Week in English 95 was sent to students, faculty, staff, alumni, and friends of the department on Monday, March 1, 2021. If you would rather not receive these weekly bulletins, please reply with <unsubscribe> in your subject line. Earlier installments are archived on our website. If you're on Facebook, please consider joining the newly formed English Department Group.
If you would like to support the mission of the English Department, please consider a donation to the Annual Fund through this secure online portal.