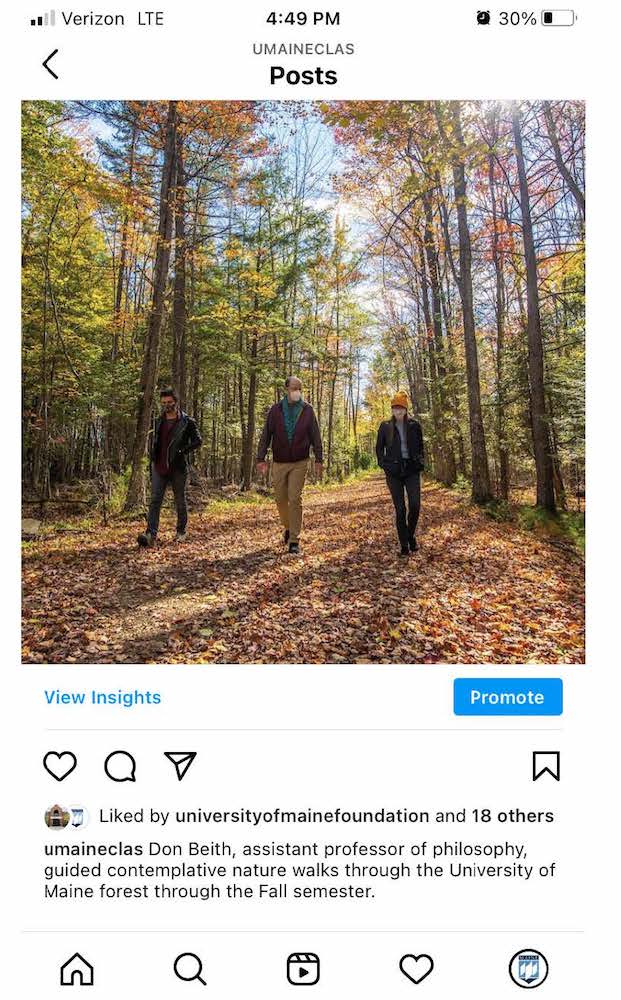 This Week in English | April 5-11, 2021
Welcome to the hundredth installment of This Week in English! The first bulletin circulated back on September 5, 2017, and apart from a hiatus in the first months of the pandemic we've been at it ever since. If you enjoy these glimpses into the life of the Department, please consider contributing an update from your perspective, whether that be as a first year English major, a Senior en route to graduation, an alum, a Master's candidate, a former faculty member, or a friend of the department. We'd love to hear from you and share your story with others who love reading and writing as much as you do!
Margo Lukens Presents Today at 3pm
This afternoon Margo Lukens will present "Restoring Penobscot Language Use: How an English professor is helping access vital knowledge for a sustainable future" as part of the Senator George J. Mitchell Center for Sustainability Solutions's lecture series. Lukens writes:  
When I began the project of publishing "Still They Remember Me": Penobscot Transformer Tales, Volume 1, I placed a primary value on working responsively with Penobscot language keeper Carol Dana, who wanted help to restore Penobscot language use. Dana wanted to make bilingual text versions readily available to young people in her community. Reading the narratives as literature, I saw that they contain deep knowledge about how human beings have understood life in this place, teaching ecological knowledge, community values and relationships from a Penobscot perspective. As we work on solving complex 21st-century problems, reading traditional stories like these can offer invaluable insights for creating a resilient world.
Registration for the free event is available here.
Write a Poem Every Day in April with Storied's Poetry Month Challenge
For National Poetry Month, challenge yourself to write a poem every day with UMaine's creative writing club, Storied! Go to @storiedumaine on Instagram for daily prompts, and tag the group in your poems to be featured on their account!
Intern Spotlight: Nola Prevost and Avery Maietta Communicate for CLAS
English students Nola Prevost and Avery Maietta are interning with UMaine's College of Liberal Arts and Sciences under the supervision of Dr. Brian Jansen, Communication Specialist for CLAS and Lecturer in English. Prevost has been working mainly on writing press releases, such as this one about The Wolves, and compiling the CLAS weekly newsletter. The internship "has helped me think more about how information can be communicated most concisely and effectively," Nola says. "My degree in English, especially as a Writing Center tutor, has prepared me for the editing process of journalism, but I'm still learning new things every day." Maietta uses social media to communicate CLAS events happening around campus, for example, by writing the attached post about nature walks led by Dr. Don Beith in the Philosophy department. "I'm finding neat, relevant events that are happening in the UMaine system and using social media to spread the word about them," Avery explains. "I'm using a visual medium in addition to a text based one to communicate messages, and I think effective communication is what an English degree is all about." For more information about Internship Opportunities for English majors, please contact Dr. Katie Swacha.
Diversity in Children's Lit Panel Tuesday
Issues of diversity in children's literature will be the focus of an online panel discussion with authors, illustrators and editors April 6, hosted by Fogler Library. The free public event, "Mirrors, Windows & Sliding Doors: A Panel Discussion on Diversity in Children's Literature," begins at 4 pm. Register online for the event. For more information or to request a reasonable accommodation, email Brad Beauregard.
Harlan-Haughey, Howard, and Moxley Featured in UMaine Today
Brian Jansen draws on the historical perspective of Sarah Harlan-Haughey concerning the plague in fourteenth-century Europe to frame his profile of several UMaine artists whose works offer "cultural reflections" of the present pandemic, including fiction writer Greg Howard and poet Jennifer Moxley. 
Workshop on Inclusive Pedagogy on April 12
On April 12, a week from today, Dr. Brenda J. Allen will lead a workshop on inclusive pedagogy from 3-4:30pm. During this interactive workshop, participants will explore how and why privilege is relevant to inclusive pedagogy. They will learn or relearn the systemic nature of privilege and its relationship with dominant belief systems. They will discuss challenges and opportunities associated with acknowledging individual and collective privilege. Participants will also receive information and insights about privilege dynamics and inclusive teaching and learning. In addition, participants will develop an action plan for addressing privilege in their teaching practices. Seats are limited to 35 and registration is required (note fixed link).
English Department Drop By on Friday
You never know who will drop by our Friday afternoon gatherings: last week, Margo Lukens, Rosalie Purvis, and I welcomed alumni from Maine, Boston, and Manhattan along with our colleague at UMaine Machias Marcus Librizzi and several current students. Conversation ranged from Tolstoy to Agatha Christie and Ruth Ware, and we shared more ghost stories than at any previous meeting. We'll meet again via Zoom this week at 4pm to talk informally about the week that was, what we're reading and watching, and how we're all doing. Come for a few minutes or settle in, whatever works for you.  
Covid Reminder
If you or people you know in the UMaine community have concerns about COVID-19 symptoms, close contact, or a positive test, call the COVID-19 info line at 207-581-2681 or fill out the online self-reporting form or email umaine.alerts@maine.edu.
---
This Week in English 100 was sent to students, faculty, staff, alumni, and friends of the department on Monday, April 5, 2021. If you would rather not receive these weekly bulletins, please reply with <unsubscribe> in your subject line. Earlier installments are archived on our website. If you're on Facebook, please consider joining the newly formed English Department Group.
If you would like to support the mission of the English Department, please consider a donation to the Annual Fund through this secure online portal.