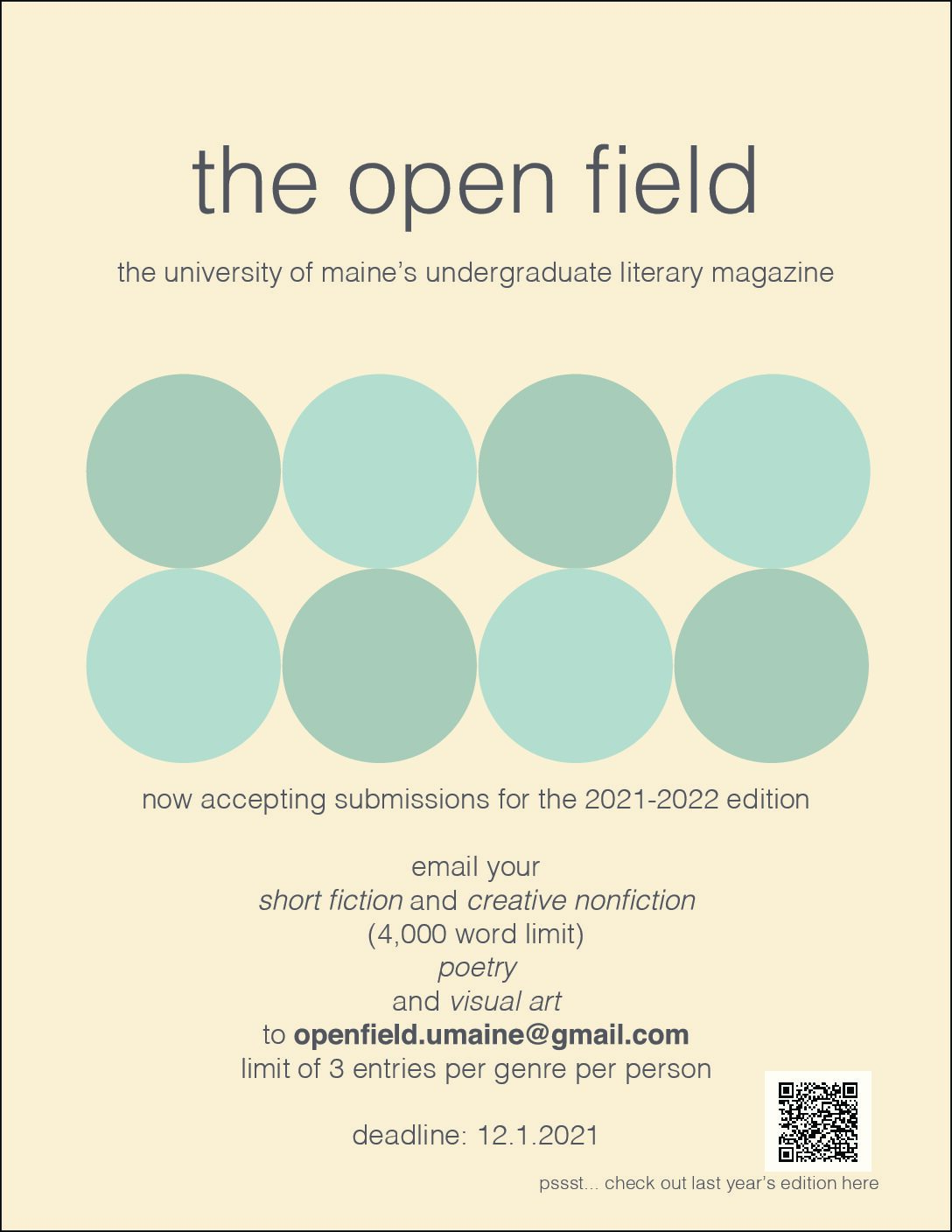 This Week in English | October 25-31, 2021
This week's bulletin includes information about the department's undergraduate literary journal, internship opportunities in the spring and beyond, an event commemorating a Quebecois poet's legacy, an update from an emeritus professor, a glimpse into the first-year composition program, a preview of an upcoming fiction reading, and a link to the Maine Campus's coverage of a recent event sponsored by the Stephen E. King Chair in Literature. If you have news you'd like to share, don't be shy!
Call for Creative Writing Submissions: The Open Field
The Open Field is a student-led literary magazine dedicated to publishing poetry, prose, mixed-genre writing, and visual art by the undergraduate community at the University of Maine. In 2021, the journal was published online only, but this spring's issue will be published both in print and online.
The Open Field editors this year are English majors Paige McHatten and Megan Ashe. They are looking for submissions for the 2021-2022 issue. Students may submit short fiction, poetry, creative nonfiction, and visual art to openfield.umaine@gmail.com. The deadline for submissions is December 1st, 2021. You'll be seeing their flyer around campus if you haven't already.
Internship Info Session on Thursday
Please join Dr. Katie Swacha for an info session about internships on Thursday, October 28 from 12:30-1:30 in the Writers' Block (Neville 302). Professor Swacha can help you to find an internship suited to your interests, apply for financial assistance for internships, answer any questions you have, and explain how you can earn college credit for your internship! Many internships are paid, and there are funding opportunities available for students who pursue an unpaid internship. An internship offers English majors and minors the chance to use your writing skills in a workplace, try an English-related job on for size, and gain experience that will help you to land a job after graduation. Taking ENG 496, after or during your internship, also allows you to earn up to 6 credits and can be used toward your senior capstone requirement. Please contact Dr. Katie Swacha more information. She would be happy to explore internship opportunities with you!
The Agony of Time: A Remembrance of Marie Uguay this Thursday 
Forty years ago this fall—on October 26, 1981—the phenomenal Quebec poet Marie Uguay's life and writing were cut short by bone cancer. She was twenty-six years old. Associated with Les intimistes (The Intimists), a group of Québécois poets who emerged in the 1980s and 90s, Uguay left behind three remarkable volumes of poetry and a searing personal journal. Hers is a poetry of luminous image in which words become characters that speak the complexity of desire, the beauty of the material world, and the agony of time.
This bi-lingual (French and English) program will include clips from Jean-Claude Labrecque's documentary film Marie Uguay, as well as readings from her poems by students—including English majors Rachel Ouellette and Olivia Lhundup-Zebo—and her journal, which Jennifer Moxley is in the process of translating. Please join us for a remembrance of this remarkable poet.
The event takes place this Thursday, October 28, 2021 from 4:30-6PM in the Allen and Sally Fernald APPE Space in the IMRC (Stewart Commons 104; where NWS events are held). It is co-sponsored by the Canadian American Center, the Modern Languages and Classics, and the English Department. More details are available here.
An Update from Ken Norris
Poet and scholar of Canadian literature Ken Norris retired at the end of the 2017-2018 academic year and was awarded the title of Professor Emeritus of English effective September 1, 2018. He writes in with this welcome update:
Canadian poet Justin Million is soon going to interview me about what he calls the "Ken Norris Pandemic Trilogy." Those are three chapbooks—Hawaiian Sunrise, Stray Dog Cafe, and The Traveling Wilburys Collection—that I have published with above/ground press in Ottawa this year.
We've all been kept fairly close to home, but I did manage to get to Hawaii for six weeks last winter.
Back in the Spring, Guernica Editions published South China Sea: A Poet's Autobiography. Much of that book was written on my next-to-last sabbatical from UMaine.
Current projects: an essay on MIchael Ondaatje's Rat Jelly and a first draft of my literary memoir.
A Glimpse into the First-Year Composition Program
Connor Ferguson is an alum of the University of Maine's bachelor's program (fall 2019) where he concentrated on English and Creative Writing. He is now teaching a section of ENG 101 for the College Composition program as an MA in English student. In Connor's ENG 101 section, students are currently reading Kevin Roozen's "Threshold Concept 3.1: Writing is Linked to Identity," and are being asked to consider how their identities emerge through their language practices, and how those identities are also shaped by their discourse communities. In relation to "Threshold Concept 3.1," students are also engaging with Kevin Roozen's "Chapter 14: Addressing the Futurity of Literate Action: Tracing the Enduring Consequences of Acting with Inscriptions Throughout the Lifeworld," a selection analyzing inscriptions as a language practice, the intersection of personal and academic lifeworlds, and the ways in which writers place themselves amongst multiple discourse communities while maintaining a sense of identity. Throughout Connor's assignment sequence students are invited to apply ideas of the rhetorical triangle, audience, and performance to their writing. In preparation for their final Writing Project they are asked to synthesize these concepts in relation to their individual language practices, critically interpret case studies through application of rhetorical concepts, and reflect on their composing decisions in the context of a discourse community.
In addition to his instruction of ENG 101, Connor is currently working on a Creative Writing thesis in the shape of a novel. Influenced by traditions of Modernism and the novel-in-one-day structure, Connor intends to explore the concept of queer temporality (see Kate Haffey's "Exquisite Moments") through fabulism, time distortions, and narratives concerning modern relationships, funeral home work, and familial dynamics.
Novelists Katie Lattari and Morgan Talty in New Writing Series on November 4
Two Thursdays from now the New Writing Series will feature Morgan Talty and Katie Lattari, two novelists with close ties to the department, the university, and the community. The event will be held live in the Fernald APPE Space (Stewart Commons 104) starting at 4:30pm on November 4, 2021. Hollie Adams will introduce. More details available here.
Morgan Talty is a citizen of the Penobscot Indian Nation where he grew up. He received his BA in Native American Studies from Dartmouth College and his MFA in fiction from Stonecoast's low-residency program, where he is currently on the faculty. His story collection Night of the Living Rez is forthcoming from Tin House Books (2022), and his work has appeared in The Georgia Review, Shenandoah, TriQuarterly, Narrative Magazine, LitHub, and elsewhere. Talty was recently awarded the 2021 Narrative Prize, and he is a recent recipient of a grant from the Elizabeth George Foundation. Talty teaches courses in both English and Native American Studies. He lives in Levant, Maine.
Katie Lattari holds degrees from the University of Maine and the University of Notre Dame. Her first novel, American Vaudeville, a small indie press work, was published in 2016 and had previously been a semi-finalist in Subito Press's annual fiction contest in 2013. Her short fiction has been published in such places as NOO Journal, The Bend, Stolen Island, Cabildo Quarterly, Pennsylvania English, The Writing Disorder, and more. Her short story "No Protections, Only Powers" was a finalist in the Neoverse Short Story Writing Competition and later anthologized in Threads: A Neoverse Anthology. On September 14, 2021, her debut thriller Dark Things I Adore was published by Sourcebooks Landmark. Dark Things I Adore was an Apple Books best book of the month pick for September, has received a starred review from Library Journal, and was recently featured in the Crime & Mystery section of the New York Times Book Review. A native of Brooklyn, New York, Katie now lives in Bangor, Maine, with her husband Kevin, and their cat, Alex.
Maine Campus Coverage of Recent King Chair Event
The Maine Campus recently ran a story by Aidan Leavitt about Susan Choi's reading in Minsky Recital Hall last Thursday as part of the King Chair in Literature Lecture Series. You can read "Susan Choi explores living unled lives through literature in Stephen E. King Lecture Series" online here.
---
This Week in English 111 was sent to students, faculty, staff, alumni, and friends of the department on Monday, October 25, 2021. If you would rather not receive these weekly bulletins, please reply with <unsubscribe> in your subject line. Earlier installments are archived on our website. If you're on Facebook, please consider joining the newly formed English Department Group.
If you would like to support the mission of the English Department, please consider a donation to the Annual Fund through this secure online portal.