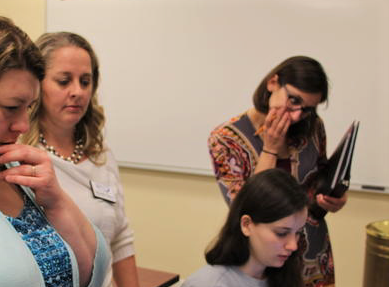 This Week in English | October 7 – 13, 2019
Poets Featured in New Writing Series This Thursday Afternoon
The New Writing Series continues its twentieth-anniversary season with a poetry reading by Sara Nicholson and Sarah Green this Thursday, October 10, at 4:30 in the Allen and Sally Fernald APPE Space (Stewart Commons 104). Jennifer Moxley will host. For more information, check out the NWS Facebook group.
Graduate Faculty Spotlight: Kathryn Swacha
The most recent of our Graduate Faculty Spotlights introduces Kathryn Swacha, a newly appointed Assistant Professor of Professional and Technical Writing in English. It begins:
I study how specialized topics are communicated to audiences who need that information (click here to learn more about my field). Specifically, I am fascinated by how people navigate vast amounts of information regarding how to be 'healthy'—advice on what to eat, how much to exercise, which medications to take, which medical procedures to agree to, which doctors to trust, etc. How do we sort through all of this information to make decisions about our bodies that we feel comfortable with?
Swacha is teaching an advanced course on technical editing and document design (ENG 416/516) this fall along with a section of ENG 317: Business and Technical Writing.
MA Alum Mark Tabone Honored for Article in Twentieth-Century Literature
UMaine alum Mark Tabone earned a Bachelor of Science degree in Biology in 1997, a Master of Science in Zoology in 2000, and  Master of Art in English in 2009 with a thesis on "Politics and Phenomenology of Embodiment in Adrienne Kennedy, Claudia Rankine, and Nicole Brossard," advised by Carla Billitteri. He earned his doctorate from the University of Florida in 2013 and is now a lecturer in English at the University of Tennessee.
Naomi Jacobs, with whom Tabone studied utopian literature at the graduate level, notes that he has received the 2019 Kappel Prize in Literary Criticism for his article  "Multidirectional Rememory: Slavery and the Holocaust in John A. Williams's Clifford's Blues. The judge was noted scholar Michele Elam. Elam's citation begins:
In her PMLA article, "Why the Humanities Matter for Race Studies Today," Susan Koshy argues that transformations in racial understandings frequently elude social science frameworks, for such transformations "often erupt and are manifested in films, stories, theatrical and quotidian performances, and new media before they assume a social density and critical mass that enable analysis of these phenomena. In other words, they inhabit and operate in a dimension of the human and the social that the humanities are uniquely positioned to investigate and illuminate." "Multidirectional Rememory: Slavery and the Holocaust in John A. Williams Clifford's Blues"—the 2019 Kappel Prize winner—extends Koshy's point about the particular capacity of literature to anticipate, reflect, and shape the "facts" of race. It does so by taking seriously the ways that Williams's extraordinary novel about a self-described black, gay musician in a Nazi camp from 1933–1945 both offers a "powerful political critique of racialized oppression" and envisions the "possibilities for liberatory coalitional politics in a globalizing world." Of course, that is much to expect of any work of literature, but one of the particular strengths of "Multidirectional Rememory" is the way it taps immediately into the higher cultural stakes of both this novel and humanistic inquiry more generally.
The Andrew J. Kappel Prize in Literary Criticism, named for the late critic and esteemed deputy editor of Twentieth-Century Literature, is awarded annually to the author of a work submitted to the journal during the preceding year that is judged to make the most impressive contribution to our understanding and appreciation of the literature of the twentieth century. Nominees are chosen by the editor of Twentieth-Century Literature and members of the editorial board. A different prominent literary critic serves each year as judge. The prize includes an award of $500 and publication in Twentieth-Century Literature.
Hollie Adams in the New Writing Series on October 24
Please mark your calendars for a newly added NWS event on October 24, when the Series will welcome our new colleague in Creative Writing, Hollie Adams, to the podium to read from her fiction. Adams is teaching the graduate workshop in fiction this fall along with a 300-level course on Canadian Literature. She is a faculty affiliate with the Canadian-American Center, which is one of the leading institutes for the study of Canada in the United States.  Her reading will be in the usual venue (Fernald APPE Space, Stewart Commons) at 4:30pm.
King Chair Sponsors Shakespeare Residency in November
The Stephen E. King Chair is sponsoring an education residency that will bring two members of the American Shakespeare Center (Staunton, VA) to campus November 5-7 to conduct a series of workshops with various classes at UMaine and at Orono High School. On Wednesday, November 6th, 5:00-7:30pm in the Cyrus Pavilion Theatre, they will be facilitating a community-wide performance workshop using scenes from Othello to engage us in a conversation about Others and Othering. Please encourage your students (and anyone from beyond the UMaine community who you think would be interested in this event) to come join us. It is free and open to the public. For more information, contact Caroline Bicks.
#
This Week in English 63 was sent to faculty, students, and friends of the department on Monday, October 7, 2019. If you would rather not receive these weekly bulletins, please reply with <unsubscribe> in your subject line. Earlier installments are archived on our website.
If you would like to support the mission of the English Department, please consider a donation to the Annual Fund through this secure online portal.